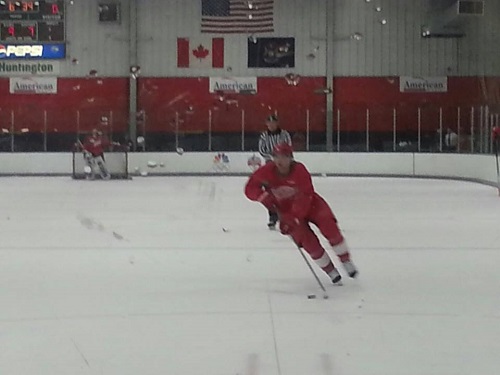 Friday night saw Team Yzerman and Team Lidstrom face off in a scrimmage. Not included in the game were Darren Helm, Nick Jensen, and goaltender Jared Coreau due to various injuries.
The game was comprised of two thirty minute periods followed by a shootout. Penalties were to be determined by a penalty shot.
The second period saw both teams practice their power play and penalty kill for four minutes. After eight minutes, even strength play resumed.
Two on-ice officials called the game.
Starting Goaltenders: Team Yzerman – Jake Paterson (1 T) Team Lidstrom – Toni Eskelinen
Recap
1st Period: Zach Nastasiuk scored first for Team Yzerman with assists from Anthony Mantha and Ryan Sproul. The second goal was scored by Martin Frk from Dean Chelios, giving his team an early 2-0 lead. Shots were 5-0.
David Pope made it 3-0 on a snapshot (top-shelf blocker side). It was unassisted and resulted after a turnover from McNulty. Frk scored again with help from Sproul in the same period.
Tyler Bertuzzi lost his cool numerous times in the game. At one point he took a run at Trevor Hamilton. Hamilton saw him coming and stood his ground. Bertuzzi went down on the play and returned to the bench for repairs.
Later in the first he went to hit Frk and Frk might have tried to defend himself by getting his arms up. As Bertuzzi was barreling in, his helmet went flying into the air and he went down awkwardly…back to the bench for repairs.
Jason Binkley (defenseman from Ferris State) sent Bertuzzi to the bench for a third time after sending a slap shot that Bertuzzi absorbed.
The other team saw his play and responded with strong physical play. Defenseman Richard Nedomlel delivered a big hit on Bertuzzi as well as a few others.
Zach Nastasiuk was caught hi-sticking Xavier Ouellet, so a penalty shot was awarded. Ouellet went forehand-backhand, but Paterson's glove was too quick for him.
Andreas Athanasiou was able to split two defensemen in close range and throw multiple dekes at Paterson. His shot went just high.
End of the first: 4-0 Team Yzerman; Shots – 12-9 Team Lidstrom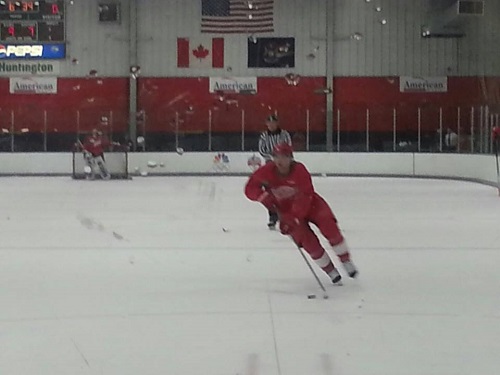 2nd Period: Nedomlel opened the scoring in the second period by shooting a hard wrist shot from the blueline.
Mantha scored the game's sixth goal with help from Frk.
Alex Gudbranson (yes Erik's younger brother) scored Team Lidstrom's lone goal on a nice wrist shot.
With 1.5 seconds remaining in the game, Mantha scored again from Dean Chelios.
Final: 7-1 Team Yzerman
Shootout
This part was a little hard to keep track of since shooters went one after another, but here's a short but sweet recap.
Tvrdon – tried to drag the puck to the right side as he was skating left on, got too fancy and didn't convert.
GOAL: Nastasiuk – wrist shot, high glove side
Glendening – low pad save
Bodin – forehand-backhand post
Janmark: forehand-backhand shot over net
Goodrow – right toe save on a low shot
GOAL: Frk – slow Todd Bertuzzi-like approach, short deke, a head-fake and wristed it top-shelf
GOAL: Athanasiou – pulled puck between legs
Loney – did not score
Bertuzzi – backhanded it high
GOAL: Pope – fake slapper
Yakubowski – skate-to-stick missed shot
Chelios – wrist shot stopped
Walters – shot over net
Mantha – didn't get shot off, forehand-backhand
Silk – hesitated, blocker save
Telakov – over net while crossing over
GOAL: Babcock – five-hole
GOALIE SWITCH
D'Agostini out, Paterson in for Team Yzerman
Sproul – slap shot over glove
Ouellet – forehand-backhand leg save
Nedomlel – wrist shot stopped
GOAL: Marchenko – low side goal
Hamilton – did not score
De Haas – stopped with splits save
McNulty – stick save
GOAL: Binkley – five-hole backhand
Gudbranson – wrister, pad save
Then came the one-goal-to-end-it-all segment of the shootout
Frk – stick save
Babcock – NG
Nastasiuk – NG
Athanasiou – NG
Loney – NG
De Haas – NG
Binkley – NG high glove save
GOAL: Marchenko – Five-hole – winner
I will have my final assessment of these prospects written later this week.
Follow me on Twitter @yungspork