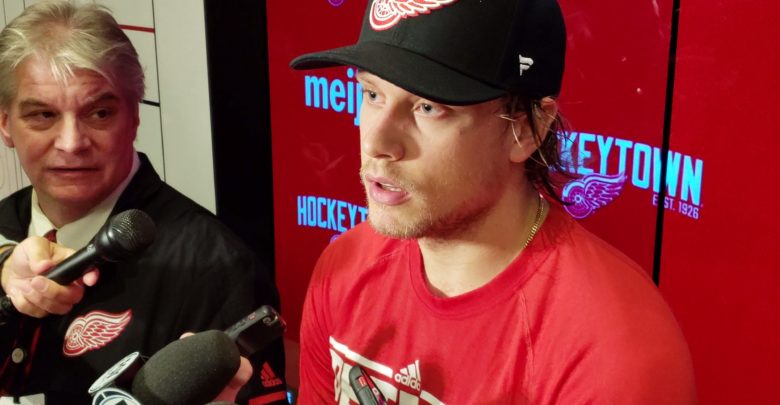 The Wings had their three-game winning streak snapped at the hands of the Edmonton Oilers on Saturday night. It ended in a tight 4-3 loss, though the shot total of 42-26 indicated a more lopsided affair.
Drake Caggiula, not known for his scoring prowess, scored 12 seconds into the game on the first shot. That's how quick it took for the Connor McDavid line to make its presence known. It was not a difficult shot for goalie Jonathan Bernier to stop, but Caggiula fooled him and the game had its first mark of the night.
Jacob De La Rose, acquired recently off waivers, tied it up late in the first period, with assists from Gustav Nyquist (who's been beginning to put up points recently) and Michael Rasmussen (also playing very well of late). It was his first goal in a Red Wing uniform.
Despite having late momentum in the opening period, the second started exactly the same, with Edmonton scoring around the one minute mark. Alex Chiasson one-timed a goal home from a great pass by Connor McDavid.
Kyle Brodziak added to the lead with around five to play, before Detroit's Danny DeKeyser turned the tides with seconds remaining (36 to be exact). It appeared that Wade Megan, who centered the second line, had also scored his first goal as a Red Wing, but the defenseman DeKeyser was credited with the goal as Megan worked hard in the crease to ensure the puck went in.
Brodziak potted another goal in the third period extending the lead to two again. And again a late comeback attempt by Detroit resulted in a goal by Tyler Bertuzzi. A nice passing play behind the net by Dylan Larkin and Nyquist set up Bert perfectly for a sneaky goal.
The late push was ultimately unsuccessful, but the team prevented the young Oilers squad from adding an empty-netter.
After the game, Coach Jeff Blashill talked highly of De La Rose and Rasmussen's efforts.
Detroit played decently enough, but Edmonton outplayed them in virtually all aspects. Although the Oilers don't have a lot of depth, their star power far outshines Detroit's, and the Wings struggled to find a foothold in the game.
Their next chance to get in the win column will be Tuesday when they play host to the New York Rangers. Next they face the Arizona Coyotes on Saturday.
Follow me on Twitter @KevinSporkaHOHM