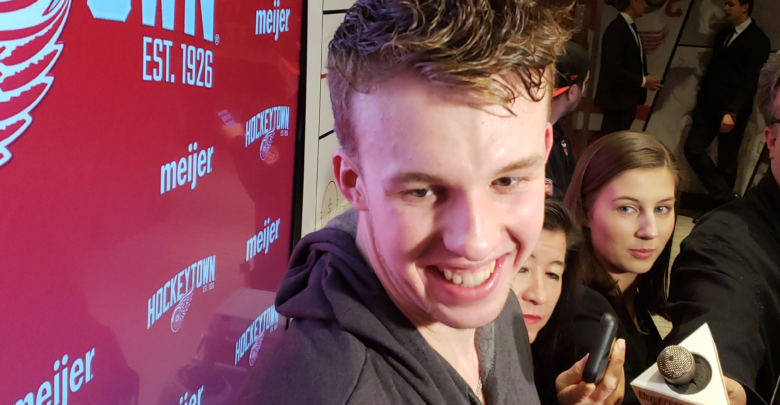 Detroit ended its 2018-19 season on Saturday with a 7-1 loss to the Buffalo Sabres, a team which had the exact same record coming into the night. Eight players from the Griffins were in the lineup.
Sam Reinhart led the scoring for Buffalo, scoring on the team's third shot (3:22). Jack Eichel assisted. Rasmus Dahlin struck next on the power play (11:51) as he wristed a shot past Jimmy Howard with Evan Rodrigues screening in the crease.
Anthony Mantha scored on the power play with 4:49 to play in the period, the Wings' only goal. Andreas Athanasiou and Filip Hronek assisted.
The Sabres scored three more in the middle frame. Conor Sheary scored first, followed by Jeff Skinner and Zemgus Girgensons. Following the fifth goal, Howard was pulled. With backup Jonathan Bernier out, Kaden Fulcher, who wasn't expected to have to play, was put into the crease to finish the remaining 27 minutes.
The 20-year old netminder has only played in the ECHL for the Toledo Walleye since leaving the OHL after his third Junior season. This season he has earned a record of 15-7-2 on a really good squad. He allowed two goals on 11 shots faced.
In the third, Skinner scored his second of the game and 40th of the season, three more than his previous career high. Brandon Montour scored 1:12 later on the power play.
On Sunday, Detroit assigned Jake Chelios, Joe Hicketts, Filip Hronek, Dylan McIlrath, Christoffer Ehn, Martin Frk, Matt Puempel, and Dominic Turgeon to the Grand Rapids Griffins (AHL), who will be beginning their playoff run after the season concludes this week.
Detroit finishes with the 4th best chance to get the first overall pick in this year's draft. Colorado (with Ottawa's pick) has the highest chance to earn the right to draft Jack Hughes.
Now the focus turns to the off-season, where Jeff Blashill (with his new two-year extension) and his staff will have a lot of time to prepare for September's training camp. It will also be interesting to see where Steve Yzerman lands, whether it's Detroit, the New York Rangers, or elsewhere.
Follow me on Twitter @KevinSporkaHOHM