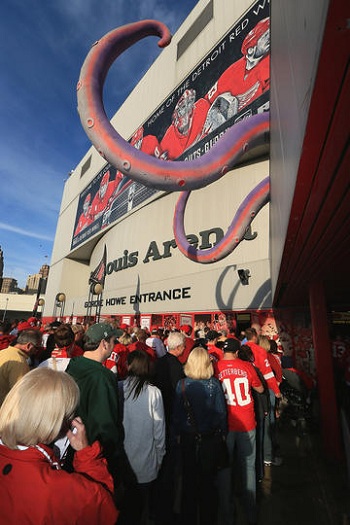 Scotty Bowman and Darren McCarty were both in attendance as the Detroit Red Wings fell to the Anaheim Ducks Saturday night.  The thought of that immediately brings back memories of 1997 and McCarty's overtime goal against the Philadelphia Flyers (which was shone on the jumbotron during a stoppage of play in the first period).  However they were here for a much different reason this time.
Game 3 was the first home game in the series for Detroit and right before puck drop, McCarty kicked off the montage of 22 straight playoff appearances, and led the roaring Red Wings crowd at Joe Louis Arena in a Let's-Go-Red-Wings chant.
Bowman was present to scout the game for the Chicago Blackhawks, where his son Stan is the VP and GM.
Both the Red Wings and Ducks had to kill off a multitude of penalties in the first period.  Some of the calls were obvious, and some were arguably weak.  Weak or not, the Red Wings were successful in stopping a flurry of chances from Anaheim, who had 13 shots in the first 20 minutes.  Jimmy Howard was spectacular in net for Detroit early on, sparking a Jim-my How-ard chant to serenade him into the dressing room.
Detroit was unsuccessful in capitalizing on their 3 powerplays in the first, including a 5-on-3 chance lasting 43 seconds.  The Wings had a hard time setting up in the offensive zone, and also on the powerplay.  "Anytime you get the chance to play 5-on-3, you've got to score," said Niklas Kronwall after the game.  "The [opportunities] were there."
Late in the second period, Red Wings forward Justin Abdelkader threw a hard, rising check on Ducks defenseman Toni Lydman, that stirred up some controversy.  Although Abdelkader slowed up as much as he could in the short time before contact, the hit jolted Lydman to the ice, although it did not appear that the head was targeted.
Abdelkader's teammates and coach supported him in the locker room.  Defenseman Kyle Quincey said "Every time you contact someone, there's an upward force. I think the issue was that Lydman didn't see it coming.  The main thing is to not hit him in the head.  I think he accomplished that.  He didn't throw an elbow.  I have a hard time thinking that anyone is trying to hurt each other out there."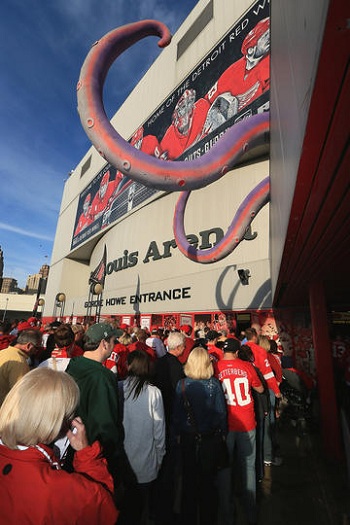 Head coach Mike Babcock echoed the same.  "No one at any time, in my opinion, has any intention to hurt anyone.  "I didn't think his arms were up. I thought he hit him on his shoulder. They're going after our D, it's the same thing."
There was no penalty on the play initially.  It appeared that an on-ice official was escorting Abdelkader to the bench so as to protect him from potential retaliation.  Abdelkader then took a seat on the bench.  After a TV timeout, it was announced that there was in fact a penalty on the play: a 5 minute major penalty for charging and a game misconduct.  Kronwall said: "Everything goes really fast out there.  They said he took too many strides.
Justin has a 4:00 ET phone call from Brendan Shanahan coming this afternoon.
If Abdelkader is indeed suspended today, he will miss at least tomorrow's Game 4.  When asked how he would fill the void on the top line, Babcock said "We could put Franzen on the top line, but then we'd be a one-line team."
Overall in the game, Detroit had to kill off 13 minutes in penalties against the team that employs Ryan Getzlaf, Corey Perry, and Bobby Ryan.  "[Anaheim's] way too good for us to be killing off five, six penalties [a game]" said Quincey.
The Abdelkader penalty was the turning point of the game.  After that the team became unraveled.  Nick Bonino scored just 18 seconds into the 5 minute major; however the Wings were able to kill off the remaining 4:42.
Detroit failed to convert on an early 3rd period powerplay chance, and Anaheim took advantage of that.  Getzlaf, Emerson Etem, and Matt Beleskey all scored in the final stanza.  Getzlaf scored shorthanded, Etem at even strength and Beleskey scored on the powerplay.
Jimmy Howard didn't have much help in front of the net, but he certainly wasn't sharp late in the game.  The second goal was the result of a turnover from Damien Brunner, but Howard's decision to lunge for a poke check on Getzlaf was a huge mistake.
The end result was a 4-0 rout.  Jonas Hiller stopped all 23 shots he saved.  At the other end of the rink, Howard finished with a save-percentage of .862.  In Game 2, Howard also let in 4 goals and didn't look confident late in that game either.
Forward Daniel Cleary emphasized how important those early powerplay chances were.  "We just didn't generate enough offense. I think the balance of the game was hanging in the first period."
Game 4 is Monday night at 8:00 ET on CNBC.
Follow me on Twitter @yungspork
Love Reading About Hockey?

Subscribe to keep up-to-date with the latest and most interesting hockey news!
| | |
| --- | --- |
| | We hate spam just as much as you |