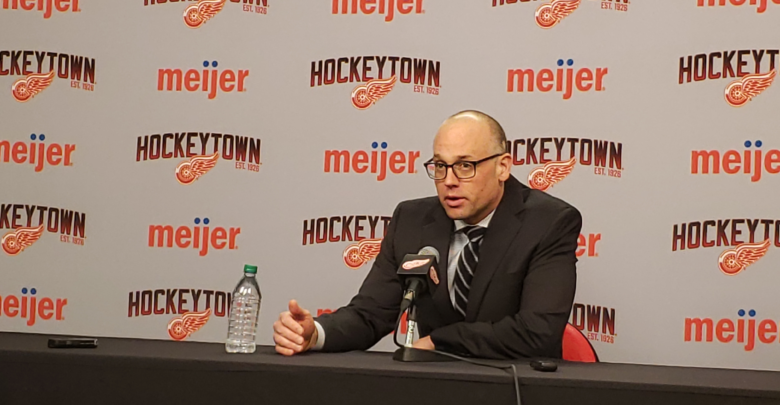 The Red Wings lost in a marathon shootout on Saturday night to the red-hot Buffalo Sabres. The Sabres and Red Wings have been fantastic in the last ten or so games, but Buffalo is probably the hottest team in the National Hockey League. And it showed.
Buffalo had 17 shots on goalie Jimmy Howard in the opening frame, taking a 1-0 lead after the first period. Jeff Skinner, one of the league's highest-scoring forwards this season, scored a power play goal on the team's first shot.
The first period saw a strange puck redirection as Sabres netminder Linus Ullmark went to play the puck near the crease. The puck suddenly redirected toward the net, but Ullmark recovered and make an awkward backward leg save. Later, Andreas Athanasiou nearly set Frans Nielsen up with a goal, but Ullmark was ready and waiting.
Dylan Larkin evened the score in the second, shooting a wrister short side past the blocker of Ullmark. Anthony Mantha assisted.
Mantha also found himself on a breakaway in the period, but his low wrister was stopped easily and he fanned on the rebound attempt.
Detroit outshot Buffalo 11-5 in the period.
Larkin had a breakaway of his own in the third period, faking with a leg kick but was turned away with the blocker.
Tage Thompson made it 2-1 for the Sabres on the power play before Mantha evened the score again with approximately six minutes to play in regulation, bringing the game into extra time.
With 3-on-3 OT failing to solve the tie, a seven-round shootout commenced with neither goalie relenting.
Nielsen, Vanek, Nyquist, and Larkin (for Detroit), and Eichel, Pominville, Mittelstadt, and Sheary were all unsuccessful. Most of these shooters tried for the five-hole with none going for a deke or skilled shot.
Finally Athanasiou scored five-hole on Ullmark, but was immediately matched by Thompson who deked wide and scored easily on the forehand.
As it continued, Abdelkader and Skinner, followed by Rasmussen were all stopped in consecutive fashion, before Sam Reinhart won the game for the Sabres with a backhand top-shelf goal.
A Look Ahead
Detroit finishes the month of November with Columbus and St. Louis Monday and Wednesday, both at home. They finish the week in Boston on Saturday.
While the pack has begun to really pull away from them in the standings, Detroit's 10-10-3 record is far from horrendous and they've either won or nearly won all their November matches. Three of their four losses have been by only one goal and the other was a difference of two goals. Things are starting to look brighter in Detroit as the young roster has begun to play more cohesively.
Follow me on Twitter @KevinSporkaHOHM