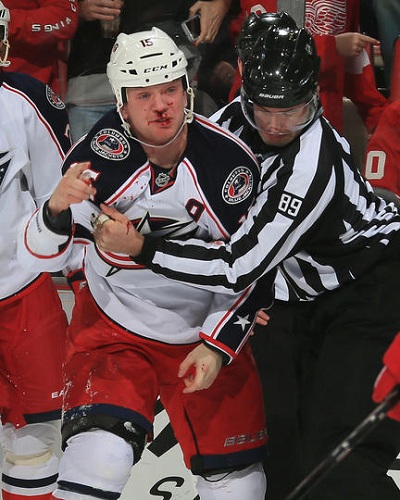 The injured Detroit Red Wings suffered another tough loss Thursday night, to the Columbus Blue Jackets. Johan Franzen, Todd Bertuzzi, Mikael Samuelsson, Darren Helm, Carlo Colaiacovo, and Brendan Smith are still injured, and in a game that needed to be grinded out, the Red Wings were without their two power forwards.
The loss marked the 5th straight winless game for Detroit.
Game Recap
Damien Brunner opened the scoring just 18 seconds into the game, and on the first shot of the game. The goal was unassisted. It was the 3rd goal of the night to be scored on the first shot against a goalie. Cam Ward and Evgeni Nabokov joined Blue Jacket netminder Sergei Bobrovsky in letting in the first shot of the game. The goal was Brunner's 8th of the season (leads team).
Valtteri Filppula scored the game's second goal 2:22 later on a deflection from a Brian Lashoff shot. Brunner assisted on the goal also. The goal was much needed from the slumping Red Wing forward, who desperately needed a break.
Jordin Tootoo and Derek Dorsett dropped the gloves in front of the Red Wings net 4 minutes into the period, and Tootoo dropped him about 5 seconds later. Tootoo received 2 minutes for instigating, 5 minutes for fighting, and for some reason a 10 minute misconduct as well. Ericsson had already dropped the gloves, preparing to fight with Dorsett, before Tootoo stepped in for him.
Just 26 seconds later, R.J. Umberger brought the Jackets to within one on the ensuing Columbus powerplay with Cam Atkinson and Jack Johnson assisting. It was Atkinson's first game back from an ankle injury.
In the second period, Kyle Quincey and Artem Anisimov got tangled up behind the Red Wing net, and as both players fell to the ice, Quincey's forearm, with the full weight of his body, landed on top of Anisimov neck. Artem laid motionless for about 5 minutes while the Columbus staff attended to him. He was loaded onto a stretcher and taken to the Detroit Medical Center immediately. The good news was that he did not lose consciousness.
At the same time, Quincey rolled his ankle and did not return to the game.
Earlier in the second period, Dorsett and Ericsson shared a few words, and both received unsportsmanlike conduct penalties.
In the third period, the Blue Jackets scored two more unanswered goals, including the game-tying goal by Dorsett (rebound) and the game-winning spin-o-rama by veteran forward Vinny Prospal with 25 seconds left in regulation.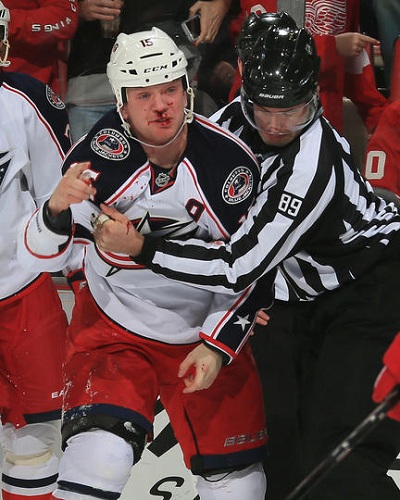 There was a multitude of no-calls in the third period. Fans were outraged, and so was Jordin Tootoo. Frustration had built up in Joe Louis Arena, and Tootoo threw a huge hit on Derek Brassard 11 minutes into the 3rd. He drew an interference call from Dorsett, who decided against the Gordie Howe hat trick, and went instead for the agitator hat trick, stirring up trouble in all three periods.
Detroit went 0-for-3 on the powerplay while giving up a powerplay goal. The Red Wings outshot the Jackets 30-24, while winning 55% of faceoffs.
The Red Wings also had 7 turnovers, which led to a lot of scoring chances for Columbus.
"We kept turning pucks over around the blueline, couldn't get it deep enough", defenseman Niklas Kronwall said. "It came back to haunt us later in the game."
"We got to stick together, try and stay positive. We did a lot of good things [at the beginning of the game] and then started to make small mistakes that we cannot afford to make."
Henrik Zetterberg, after the game said "We felt we created chances, got a lot of shots [on a short 5-on-3], but we couldn't find a way to get the puck in there."
"We had to win here today", coach Mike Babcock said. "It's just one of those games you got to win. You got to find a way to win home games. Now we've got 2 points of a possible 10 [in the last 5 games]. Any way you look at it, that's a slippery slope. We can make all the excuses we want for ourselves. The bottom line is, we need to find a way to win."
The line combinations had a weird mix of players on the second line. Pavel Datsyuk was centering the line with Justin Abdelkader and Daniel Cleary on the wings. Cleary hasn't been great. In fact, his 24 penalty minutes have put his team at a huge disadvantage in multiple games so far. In last night's game, Datsyuk was taking the puck down the ice by himself many times. It was clear that Pavel was having to do way too much work. Mike Babcock stated earlier in the week that he doesn't want guys like Datsyuk and Zetterberg to play more than 20 minutes a night. However last night, Datsyuk played 22:30 and Zetterberg played 22:03.
The energy line of Drew Miller, Cory Emmerton and Jordin Tootoo played just 12 minutes (averaged).
Mursak Waived: Forward Jan Mursak was waived this afternoon. Last night's contest was his first game since the start of the season, when he received a collarbone injury. The Red Wings have too many forwards in their lineup, and not enough size, with Johan Franzen and Todd Bertuzzi on the sidelines currently.
At 5-11, he didn't bring a lot of physicality to the lineup. Mursak has a lot of talent, and I hate to see talent get buried. If he clears waivers and is not picked up by another team, the Red Wings have the option of assigning him to AHL Grand Rapids.
He was a 2006 draft pick, 182nd overall, which is the equivalent to a first round pick for most teams.
Dorsett: "Tootoo Should Be Suspended" : After the game, Derek Dorsett was quoted as saying:
"You think you're fighting a 6-5 Ericsson and then Jordin Tootoo comes in and sucker punches you. But that's just Jordin Tootoo. You expect those kind of things from him. Me and Ericsson were going to fight, we were backing up. Tootoo was being himself and came in swinging, being the cheap player that he is. In my mind he should have gotten a suspension. Those are the type of things that they're trying to get out of the game, but he's an irrelevant player, so it doesn't even matter."
I'm not sure what he means by "irrelevant." If he's insinuating that Jordin Tootoo is a goon that truly has no place in the game, he needs only to look at hockeyfights.com. Dorsett is also tied (with Tootoo) for the 3rd most fighting majors in the NHL (5), a big reason his team is 2nd in the NHL in fighting majors and 2nd worst in the NHL in total points.
Maybe he's just mad that Tootoo is 2-for-2 against him.