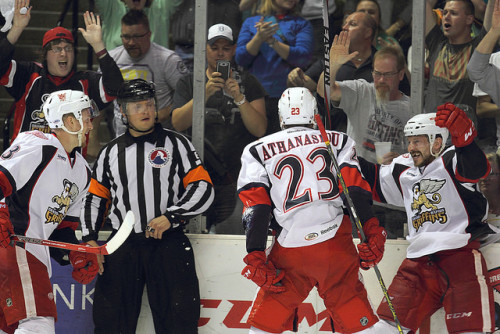 The Grand Rapids Griffins evened their Western Conference Finals series at two games apiece with the Utica Comets Friday night.
The Comets dominated the opening period, outshooting the Griffins 12-6. Grand Rapids goalie Tom McCollum was tested early and often, but was up to the task.
After a scoreless first, the Griffins would strike first in the second period. Dylan Larkin would set defenseman Xavier Ouellet up with a perfect pass from one faceoff circle to the other. Ouellet one-timed a snapshot past goalie Jacob Markstrom, who stopped 40 of 41 shots in Game 3.
"Yeah, real good play [by Larkin]," said coach Jeff Blashill. "For a guys who is touted as a real good scorer, which I think he is a good scorer, he's got real ability to make good passes and he made one there."
Unfortunately, Utica would score a power play marker as well just over two minutes later, when Larkin found himself in the penalty box. Sven Baertschi (who scored a natural hat trick on Thursday) set up forward Alex Friesen for the tying goal. Late in the second, the Griffins would allow a goal to Cory Conacher that gave Utica the lead heading into the third.
As was the case in Game 3, the third stanza was the best for Grand Rapids. They would storm back to tie the game with two seconds left in a 4-on-4 situation. Defenseman Brian Lashoff fed the puck to Andreas Athanasiou, who then proceeded to launch a long pass to Anthony Mantha. The pass was so precise that all Mantha had to do was keep his stick on the ice.
"I came in late there and Lashoff made a great play off the wall," said Athanasiou, "he had about three people on him, and somehow found the seam to me, and I saw (laughs) Mantha's big body going to the net, you know it's hard to miss him, and he's got that scoring touch around the net. It's almost guaranteed that's going in the net."
"Great play by Lash and double-A," said Mantha. "I mean it was pretty much just a tap-in for me and they made the rest of the play. I had my guy beat and Double-A read it perfectly and [it went] right on my tape. It feels good. I think our line played great tonight."
Overtime was needed to solve the 2-2 deadlock. Near the five-minute mark, McCollum and a Utica forward were tied up in front of the Griffins net behind the play.
"I'm not really sure how it happened," said McCollum. "We just kind of got tangled up in front of the net and his stick just kind of got caught in the back of my glove, and he ended up just kind of falling on top of me. The next thing I know, I look up and double-A was down on a breakaway and scored."
Meanwhile on the other side of the rink, defenseman Nick Jensen set Athanasiou up with a breakaway, of which the one they call Double-A was able to find the five-hole of Markstrom for the game-winner. This evened the series 2-2.
"I don't know if I've ever seen a guy that has that explosive of speed and ability to make a play at high speed," said Blashill. "That's what to me separates him. I think most of the really, really fast guys aren't necessarily the best hands guys. He's got that unique ability to make a play at high speed, which most guys can't do."

"To be honest with you, I was looking at the other end probably like everybody else," he said, "and I looked up and saw that double-A was on a breakaway. I mean the one thing with double-A is he's got the ability to make plays at high speed and he was able to finish, so it was good."
Athanasiou described his goal after the game:
"I mean, I was in the D-zone there, I saw Jense come around the net and he flipped it out, and I heard a scrum going on, so I was a little worried that they were gonna blow it down, but once I saw him chip it out, I took some hard strides and saw I had him beat and made my move."

"I came into OT thinking if I had a chance I was gonna shoot five-hole. And I don't know what it was, I just went into my patent move there (laughs) I don't know why, but that's what I did last OT and it worked, so I tried it again."
Coincidentally the last regular season contest that I covered in Grand Rapids was that very game. That night was my first opportunity to see the "4-on-4 then 3-on-3" overtime format that will likely be adopted into the NHL very soon. When it went to 3-on-3, Athanasiou took the puck from the defensive circle to the left of the Griffins net, and drove down the ice like I'd never seen before. His first strides are unparalleled and must be seen to be believed.
Many would agree that he is similar to a Darren Helm-type player, but with the added bonus of finishing on a breakaway. That is what makes Athanasiou such a dominant player, and in my opinion, the most NHL-ready forward in the organization.
After being moved around a lot on Thursday, from the first line to the third to the fourth, Mantha was able to gel well with Athanasiou in a way that he was unable to with Larkin and Pulkkinen. The pair were linemates for much of the regular season, and that seems to have carried forward to the Calder Cup Playoffs.
"Double-A and Mantha have been a real good pair most of the season," said Blashill. "I think when they've player their best hockey they've played together. Double-A's obviously real fast, Mantha can skate with him. They just seem to have good chemistry, and then Porter, that's been a line for a good amount of time. I thought Kevin came out and played extremely hard and I thought double-A and Mantha did a good job of skating. When they're skating, they have real high-end ability and obviously made a couple of real good plays."
"It's a great chemistry," said Mantha. "I think, plays develop really good when he's skating, when I'm skating, and with Porter just throwing the body out there, it was just perfect tonight."
"Oh yeah definitely," said Athanasiou. "I mean, all year I think we've had great chemistry. He's an unbelievable player and he's easy to play off of."
—
Teemu Pulkkinen was all over the ice the entire game, though it won't show up on the scoresheet. The American Hockey League does not keep track of many stats, so you won't see missed or blocked shots unless you see the game. Pulkkinen had numerous opportunities, the best such opportunity coming when he fired a rocket off the inside of the right post, but it deflected wide.
"Teemu's one of those guys that can really play a lot," said Blashill. "He's got unreal conditioning. So, sometimes we try and free him up with guys. He's one of those guys that maybe when he plays a lot he plays better. In a game like that we just try to get him playing as much as we can."
—
Ryan Sproul drew back into the lineup due to an injury to Russian defenseman Alexey Marchenko. Sproul had only played three playoff games prior to Friday, and was not expecting to play in Game 4. The team found out just that morning that Marchenko would not be able to play.
Coach Blashill was impressed at the way Sproul was able to seamlessly pick up where he left off with little notice and a long gap between games.
"Well I thought, first of all it's really hard to step in after you haven't played for a long, long time. I thought he came out and was assertive. When Ryan's assertive, he's a really good player. I thought he jumped into play real well. He helped create rushes for by jumping into play, so I thought Ryan did a real good job. I thought it's a testament to his preparedness, to put himself in position to get called upon at last minute's notice and do a real good job."

"It's truly day-to-day," said Blashill of Marchenko's injury. "This morning we weren't sure and then when he came back to the rink, we thought it was fifty-fifty this morning."
—
The game was littered with sub-par officiating, one prime example being two blatant holds on Pulkkinen which seemed to go unnoticed and unpenalized.
Addressing the non-calls, Blashill, being the admirable coach that he is, would not lay blame on the referees for any of his team's misfortunes.
"I think first off, the referees have a real hard job," he said. "I'll tell you this from my perspective, we never talk about ref calls. You're gonna get some calls, you're not gonna get some calls. If you let that dictate whether you win or not then you're in trouble. So, we concentrate on what we can control and that's our play."

"I think the players themselves get a feel for how the game's being called. If it's getting called real tight you don't do some stuff. If it's not getting called tight you do some stuff. I just think that's been hockey forever and that's what players do."
Game 5 will take place Sunday at 5:00 ET
Follow me on Twitter @KevinSporkaHOHM
Love Reading About Hockey?

Subscribe to keep up-to-date with the latest and most interesting hockey news!
| | |
| --- | --- |
| | We hate spam just as much as you |