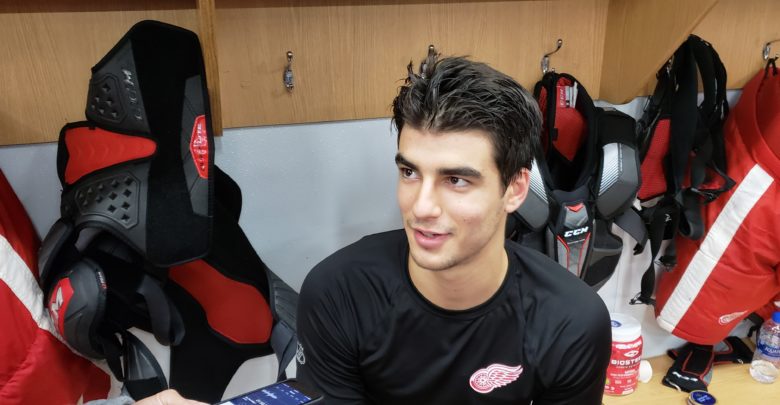 The Detroit Red Wings prospects won their way into the Championship game with a victory over the New York Rangers in Game 3 of the weekend Prospect Tournament in Traverse City, Michigan. Joe Veleno had three points and Zach Gallant had two points (including a shorthanded goal) in the win. Patrik Rybar stopped all 14 shots after losing 4-2 in Game 1.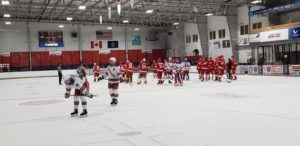 All teams had a day off on Sunday to rest after playing games on Friday and Saturday.
"Any time you're playing four games in five nights, you got to somehow find a little bit of rest," said Griffins coach Ben Simon. "I don't think there are many teams in this tournament that use that Sunday as a practice day. We used it yesterday for the guys to go and have a little fun together and take a tour of the fire department and Traverse City. They had a little bit of team bonding, a little fun, and then got some rest. I think rest in these type of things is a very important factor as well, so I think the guys took that to their advantage. We didn't skate this morning. I think the energy levels were a little bit higher because of that."
Axel Holmstrom led the scoring in the second period as defenseman Jared McIsaac fed a perfect pass across the crease. Veleno scored next on a power-play wrist shot, beating goalie Jeremy Brodeur.
"This is Homer's, I think, third rookie camp," said Simon. "You can see his maturity in his game. When we first got Axel here, he was coming off a knee surgery. And that's a tough injury to come back from. I think it speaks to his commitment to getting back to where he needs to be, and he's had a good summer. He had a good year last year. I think he's ready to take the next step. This is a big camp for him here, a big tournament for him."
Still in the middle frame, Zach Gallant scored a shorthanded goal after intercepting a pass at the D-zone blueline. He was off to the races and scored on his own rebound on the netminder Brodeur.
"I got a good break, looking five-hole going in, he made a good save, and I got the rebound," said Gallant.
"You know Gally, we put him on the wing, he's predominantly a center and we tried him on the wing here, to be a versatile guy like that that he's proven the last couple of games is tremendous for him," said Simon. "It gives us a little bit more of a maybe potential opportunity to use him as a wing in this organization as opposed to just kind of pigeonholing him as a center. He did a great job of keeping things simple. He's moving his feet. He had a few opportunities that he capitalized on."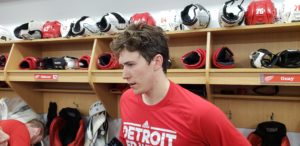 The third period saw Givani Smith agree to fight Rangers forward Dawson Leedahl. Smith declined to fight the previous two games (at least three times in which the opponent dropped the gloves). Smith decisively won the fight. Leedahl landed two punches, Smith with the rest.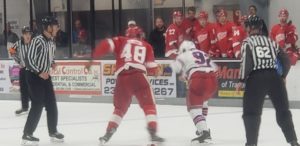 Michael Rasmussen made it 4-0 near the midway mark on a power play (Veleno and Filip Zadina assisted). Rasmussen had a fantastic game and earned numerous scoring chances throughout. He drove to the net very well, and was not knocked off the puck. The top line consisting of these three forwards was dominant.
"They're two great players," said Veleno of his linemates. "I mean, it's a real privilege to play with them. I think we just fit each other so well. You know, Z with his shot and Rass with his big body out there creating some room. I think we all fit each other's puzzles and I think we've been having good chemistry ever since we've played together. We've been creating offense, done well defensively. I think we're just playing good hockey right now."
Detroit had 10 power plays in the game, 25 in 3 games, an unbelievable statistic.
Veleno added his second with 1:39 remaining.
"I think the first one, it was a good screen in front of the net," he said. "I've just been told to shoot it. I know I had the lane. Rass is a big body in front; he's good at screening the goalies, taking away the goalie's eyes. So, I just shot it and it happened to go in. Second one was just a battle in front of the net. All three of us were just battling for it and it squirted loose, and I found the net."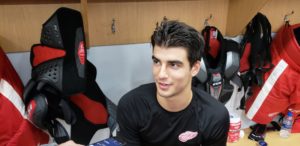 Veleno impressed coach Simon throughout the first three games:
"Joe, again, another smart hockey player," he said. "He does a lot of little things that maybe not the average fan can see, but he does a lot of little things in positioning his stick, getting himself to open areas, and just little details of his game that reflect in the success that he's had as a player in his young career so far.
Rybar finished with the 14-save shutout. Although he didn't see much action, he played a solid game.
"He was great again," said Simon of the Czech netminder. "He just has a calmness, not only on the ice but off the ice. He just has kind of a calm demeanor to him. He doesn't panic. You can kind of sense that just in how he handles himself at the rink every day. He's just a cool, calm, collected guy. Just a good kid. He works hard. It seems like he plays a pretty clean game. He's not really all over the place. He doesn't scramble. He seems to have a pretty simplistic attitude."
"We didn't give up a ton of chances and the ones we did, I thought Patrik did a great job," he continued. "I thought our defense did a good job allowing him to see the puck and not allowing any second chances."
Veleno attributes the Game 1 loss to nerves and said the team found their chemistry in the subsequent games.
"I think our execution [was the difference maker]," he said. "You know, first game jitters. I think guys were nervous, and guys were a little too excited. I thought that was a pretty big key to our first game. Ever since, we've been finding our chemistry, getting used to the systems, and everything seems to be going well with our execution."
When asked if New York's playing style was different to play against, Gallant said: "A little bit. Especially in these tournaments, you can't really have a pre-scout against teams you're playing against. So you've just really got to focus on playing your team game and going out with a good effort."
Detroit faces Columbus in the 1st place game today (Tuesday) at 7:00 EST.
Follow me on Twitter @KevinSporkaHOHM