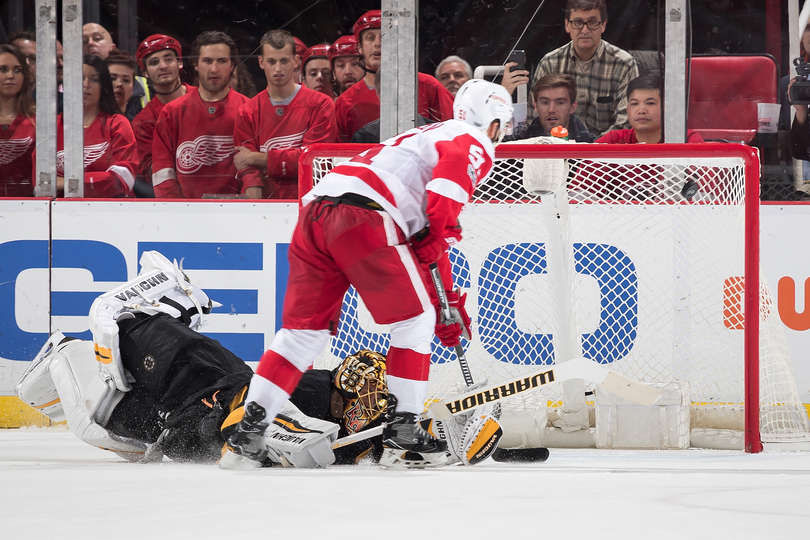 It was truly a tale of two games on Wednesday night between the Detroit Red Wings and the Boston Bruins.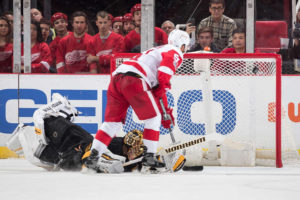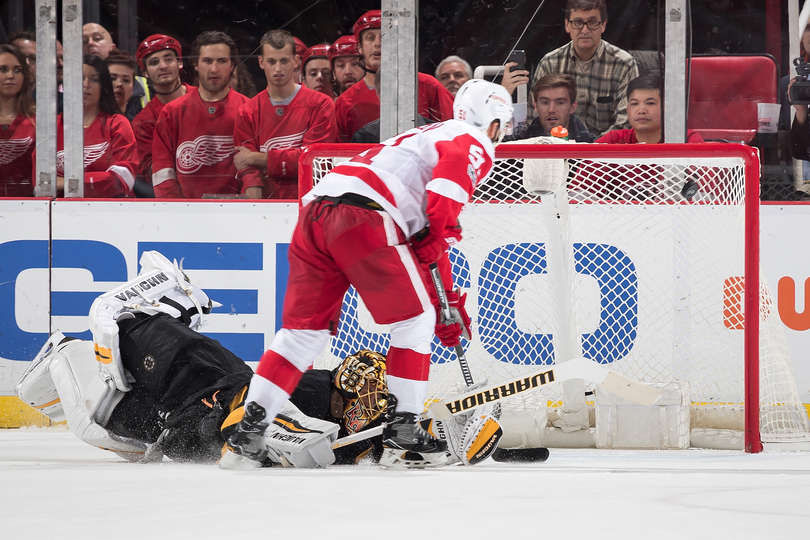 It was a nightmare of a first period for the home team Red Wings. They allowed 4 goals on 19 shots, numerous additional scoring opportunities, and a goalie change. Jared Coreau was the unfortunate recipient of a porous defensive effort. From the opening faceoff, Boston dominated control and scored on the first shift, only 44 seconds in. Frank Vatrano earned the goal near the crease as Detroit looked confused.
At the 2:27 mark, Boston scored again, this time shorthanded, as the Wings struggled to control the puck and failed to break out of their defensive zone. It appeared that the Bruins had a man-advantage as leading scorer Brad Marchand set defenseman Brandon Carlo up with a one-time pass, which he rocketed past Coreau high.
Vatrano struck again 8:50 into the first period, now on the power play. It appeared that Boston would run away with the game. Coreau was replaced by Petr Mrazek.
Finally, Detroit managed to find the scoreboard as the struggling sophomore Dylan Larkin tried to mitigate the damage as he scored his team's first goal. Struggling teammates Tomas Tatar and Riley Sheahan registered the assists on the marker.
Before the period concluded, defenseman Xavier Ouellet took a costly penalty as he interfered with Brad Marchand during a one-on-one. Patrice Bergeron took advantage and made it 4-1, his third point of the game.
The Bruins led the Wings 27-9 in shot attempts through twenty minutes of play.
"It just can't look like that [first period]," said Gustav Nyquist. "We know it's a huge game going in and it's a team we're chasing, and we want to be in the playoffs. We come in down 4-1 at home, it can't happen. Good battle here to battle our way back, but we've got to be ready for the start next game."
However, something changed during the intermission. Detroit stormed back to score three unanswered goals in the middle frame on only six shots.
Ouellet made up for his first period error by slapping a shot past Tuukka Rask. Andreas Athanasiou continued his strong month of January by making it 4-3. Mike Green kept the puck in the zone and Thomas Vanek managed to fool the Bruins with a sly pass from behind the net, which Athanasiou quickly one-timed in. The young forward now has five goals and eight points in eight games this month, one point greater than his combined total from October to December. Additionally, he has now exceeded his rookie campaign point total of 14 (37 GP) in seven fewer games.
"All of our goals were pretty timely," said Larkin. "We didn't turn away after they made it 5-4 late in the second."
Later, the game would be tied by Tatar as he capitalized on a Bruins defenseman fallen down. He took advantage of the breakaway to score five-hole on Rask.
This tie would last all of 21 seconds. Boston stormed back to retake the lead 5-4 as an Adam McQuaid shot redirected past Mrazek off the body of defenseman Jonathan Ericsson.
With 3:04 remaining in the final stanza, Gustav Nyquist would redirect a pass from Larkin for the game-tying goal.
When 3-on-3 overtime commenced, both sides traded chances back and forth.
Here's a quick recap of the extra five minutes:
0:30 Marchand on a clear breakaway, but is stopped by a great backcheck from Anthony Mantha.
1:26 Larkin connects with Tatar, who crashed the net but shot wide.
1:41 Carlo falls at the Red Wings blueline and nearly leads to a Detroit break, but he recovers just in time to retain the puck
1:53 David Pastrnak with an incredible scoring chance in tight, but Mrazek flashes the glove to snag the puck
4:20 Henrik Zetterberg demonstrates his expert puck protection skills as circles the perimeter before skating down the middle and getting past two Bruins before being pokechecked by Rask.
In the shootout that followed, Thomas Vanek scored the first goal in Round 2 with a quick high shot. Marchand followed with a low shot on Mrazek.
Finally, Frans Nielsen sealed the comeback victory with the game-deciding goal. He is currently tied with Radim Vrbata with 44 career shootout goals. He also passed T.J. Oshie for most game-deciding shootout goals with 19.
"When you're down 4-1 after the first, to come back is not easy in this league, so I think that says a lot about our guys," said coach Jeff Blashill. "Our first was not good. We've got to be much better than that come Friday in Buffalo if we want to win the hockey game. I was impressed with the fact that we were able to mount an attack in the second. Momentum's a funny thing and I thought we got momentum and then we stuck with it through the third there and it was obviously a big goal to tie it."
The Red Wings now have 46 points, one fewer than Tampa Bay, three fewer than Florida, and four fewer than both Ottawa and Toronto (currently third place). Detroit has games-in-hand on All but Ottawa and Toronto. The team's current goals total is greater than Buffalo, Florida, Ottawa, and just fewer than Boston.
Detroit definitely has a chance at extending the playoff streak.
They will look to continue this winning streak tomorrow night in Buffalo (7:00 ET).
Follow me on Twitter @KevinSporkaHOHM