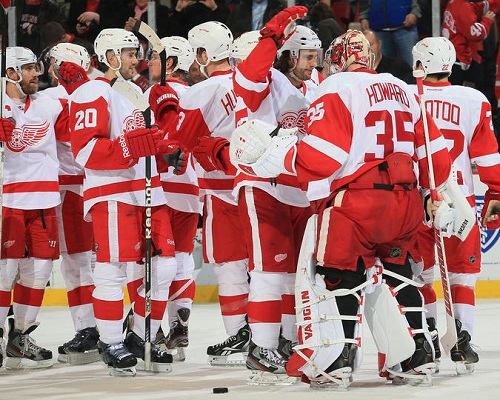 Despite being outshot by a total 33-27, the Detroit Red Wings send the Nashville Predators to back-to-back shutouts in one of Detroit's most disciplined games this season.
The Vancouver Canucks sent the Predators packing with a 1-0 win Friday night.
Usually when Detroit and Nashville face-off, Predators netminder Pekka Rinne steals the spotlight. However tonight, the spotlight was all Jimmy Howard's. He made dozens of key saves throughout the game. In the first period, Nashville had numerous 2-on-1 rushes.
Fans last night saw a lot of Kent Huskins and Brian Lashoff. Huskins played 16:55 and Lashoff played 24:14, including 2:19 of shorthanded time, much more than every other Red Wing.
"We've been practicing [special teams] a lot," Lashoff said following the game. "I think that's something, if it starts to get better and improve, I think we're going to have an easy time winning. A lot of these games are very tight. A lot of the time, that's the difference between winning and losing.
At what could have been a turning point in the game in Nashville's favor, Mike Fisher rushed down the ice, with only one set of skates separating him between him and the goalie. The set of skates belonged to Lashoff. The speedy Fisher tried skating around Lashoff, but Brian stayed with him the whole time, preventing Fisher from getting a shot off.
"Fisher is a fast skater", he said. "He can really move. He's a strong guy. I just tried to get in front of him, tried to block his view to the net."
Dan Cleary, who scored the game's 4th and final goal, showed flashes of Tomas Holmstrom. He had practiced tipping pucks into the net during the morning skate yesterday, and the practice proved to be perfect. Pekka Rinne is 6-5 and a menacing figure in net. His size alone makes it difficult for players to score on him.
When Cleary saw Niklas Kronwall tee-off from the blueline, he positioned himself in front and tipped it just a hair below Rinne's glove.
Cleary said "As the season gets going, you get better at it [net front presence], the timing, the deflections, and things like that. If you keep going there, good things happen."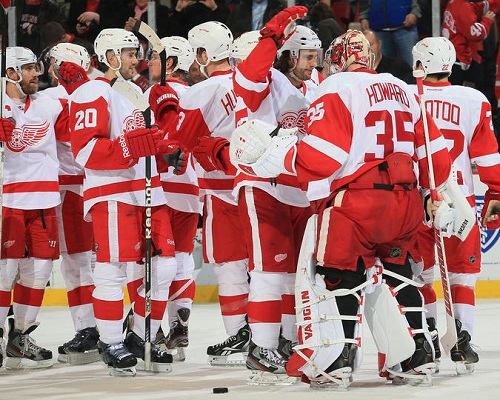 Coach Mike Babcock was true to his word also. The ice time was very evenly distributed between the four forward lines and three defensive pairings. No player played less than 11:21 (Joakim Andersson). Star players Pavel Datsyuk (18:53), Henrik Zetterberg (19:36), and Valtteri Filppula (18:07) all played under 20 minutes. This allowed the Red Wings' top lines to rest more throughout the game and let each line play its own role.
Detroit's 3rd and 4th lines scored 2 of the game's 4 goals (Drew Miller and Tomas Tatar).
For Jimmy Howard, the win was his 12th career shutout. But Howard believes that's a credit to his team's solid play in front of him. "Shutouts get credited to the goalie, but it's more of a team aspect. You need everyone pitching in. I think it's more of a team stat."
"The rivalry with [the Predators] has always been there," he said, "Especially after last year with the playoffs, with them beating us in 5. The rivalry is definitely there."
Before the game ended, the Wings were in 11th place. After the game ended, they were in a four-way tie for 6th most points in the Western Conference. "It's very tight," said Howard, "and it's going to be like this until the very last weekend. It's important to get points every single night."
Follow me on Twitter @yungspork