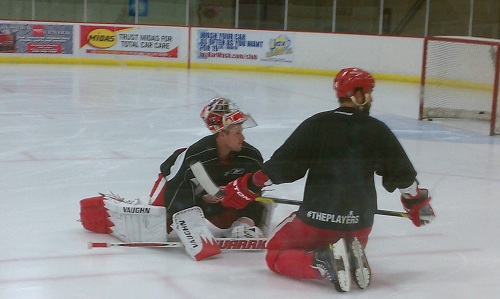 The Red Wings practiced yesterday morning, starting their daily routine again this week.
Players that were present for the informal skate included: Henrik Zetterberg, Johan Franzen, Drew Miller, Nicklas Kronwall, Jonathan Ericsson, Cory Emmerton, Patrick Eaves, Todd Bertuzzi, Jimmy Howard, and Jonas Gustavsson.
They practiced 5-on-0s, shootouts, and various other drills. The ice was a little more empty Monday. The Grand Rapids Griffins open training camp this week, and that's where forward Gustav Nyquist will be. Last week, Nyquist practiced with the Red Wings. His speed, puck control, and stickhandling are Datsyuk-esque. The Detroit News, Free Press, and Mlive reported that Dan Cleary is attending a hockey camp in Colorado as well.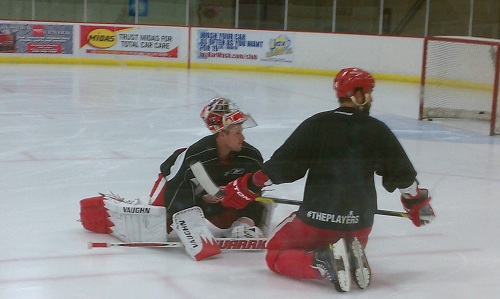 Following the weekend's labor negotiations (the NHL and NHLPA met Fri-Sun to discuss secondary labor issues), the players donned black/white NHLPA jerseys with the players' association logo on the front, and on the back it reads #theplayers.
During the practice, the two players that stood out the most to me were Drew Miller and Patrick Eaves. Miller's wrist shots were very impressive and Eaves continues to progress. Patrick was skating really well and was seeing the net well during the shootout drills, and his two goals against Jimmy Howard (both wrist shots) prove it.
Niklas Kronwall appeared to be leading the drills Monday morning. He's a potential candidate for the vacant captaincy. The players appear to be having fun, but scrimmaging against each other can get repetitive and boring for these professional players.
As we move closer to October 11, the regular season starting date, the players continue to skate with little hope of the season starting on time. For now, the current group of Red Wings skating in Troy are planning on staying put during the lockout. But over time, some players may want to follow Pavel Datsyuk, Valtteri Filppula, and Damien Brunner into Europe/Russia.
I will continue to cover these informal skates, but I will also cover the Grand Rapids Griffins (AHL) as well. The Hockey News reported that labor talks resumed once again yesterday morning, with the main economic issues still not on the agenda.
Follow me on Twitter @yungspork
Love Reading About Hockey?

Subscribe to keep up-to-date with the latest and most interesting hockey news!
| | |
| --- | --- |
| | We hate spam just as much as you |