Detroit Red Wings
Featured
Red Wings Take Second Place in Prospect Tournament, Falling to Carolina in Championship Game Tuesday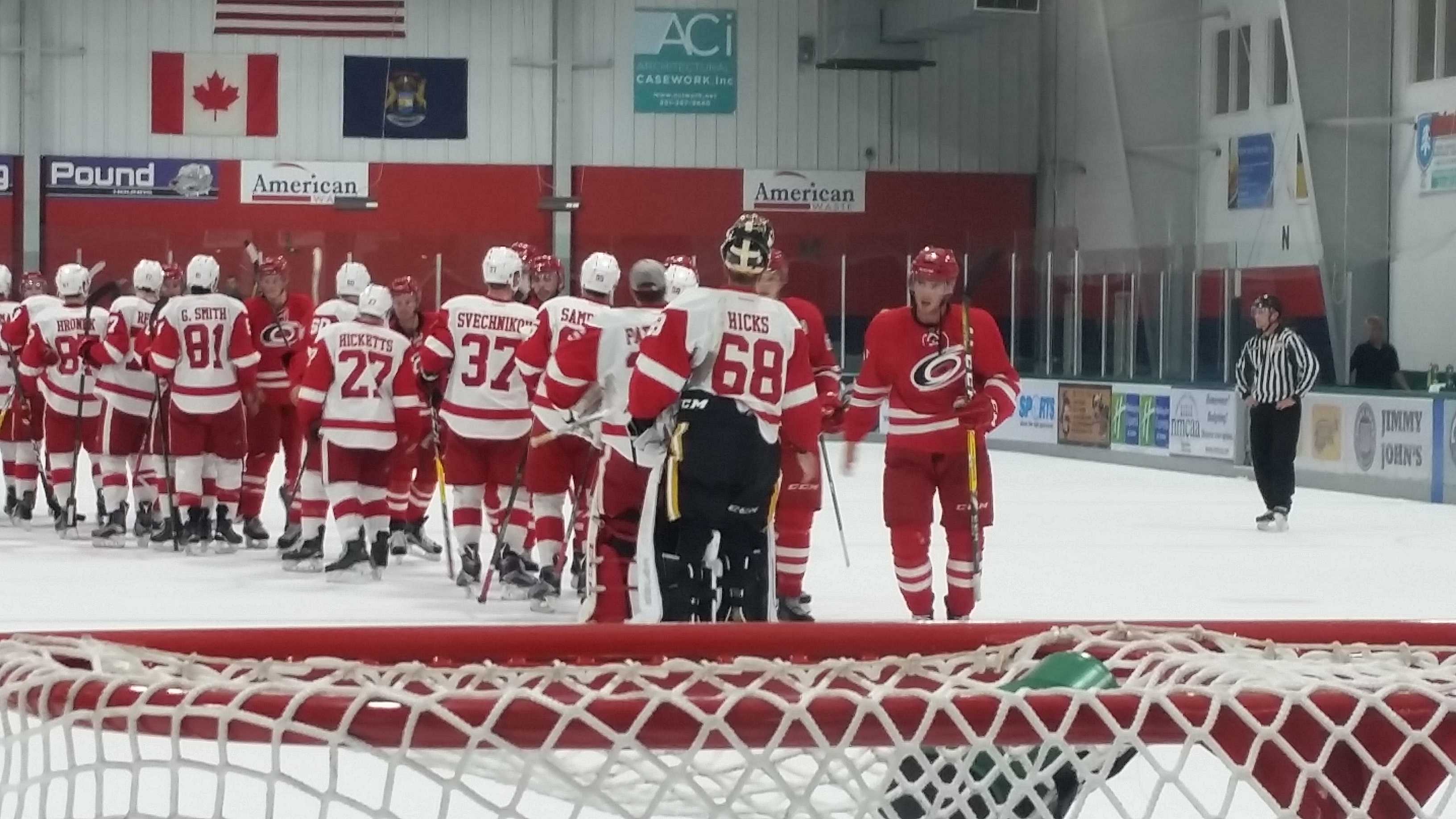 Detroit's prospects fell to the unbeaten Carolina Hurricanes Tuesday night in the championship game of the 2016 Traverse City Prospect Tournament.
After falling behind early, the Red Wings played from behind the entire game, making a strong push in the last ten minutes, ultimately losing by a score of 6-4.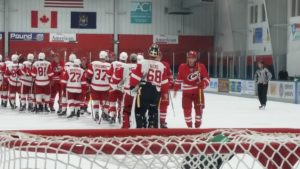 How they got here
Detroit opened the tournament with a 6-4 win over the reigning back-to-back champions the Columbus Blue Jackets. This beginning momentum did not carry over into Game 2 however, as the Chicago Blackhawks pitched a five-goal shutout. After a day off, the Wings defeated the St. Louis Blues, a team that beat Chicago 3-2 in their previous game.
Carolina began the weekend with a close 4-3 win over the New York Rangers. They then defeated the winless Minnesota Wild 4-2 and the Dallas Stars 6-3. Their combined 14 goals was the highest of the eight teams. Five players had scored twice and 16 had registered at least one point coming into Tuesday night.
Recap
The Canes wasted no time finding the back of the net. By the eight minute mark they had already established a two-goal lead, leading in shots 10-2. Steven Lorentz and Andrew Poturalski were the goal scorers.
"Every team's hard to play against, but these guys, they're really, really fast," said Evgeny Svecnhikov. "They just move the puck really quick, and I think they got some experience. I think they were just a little smarter, a little quicker, and move puck quicker."
Detroit did manage to stop this momentum leading into the first intermission as tournament veteran Zach Nastasiuk wristed a shot past Carolina netminder Alex Nedeljkovic on the power play with 25 seconds left in the first period.
With their opponent outshooting them two-to-one, the Red Wings came into the second period with a game plan to get pucks on net.
Top-line center Kyle Criscuolo had a no-goal when his shot hit the far-right top corner of the post. Linemate Tyler Bertuzzi claimed that it was in by pointing his stick at the netting below the crossbar, but the goal would not count and the 2-1 score would remain the same.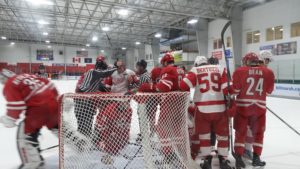 The following two shifts had a lot of energy from Detroit, and it seemed that their strong push would soon lead to a goal. However, a penalty turned the momentum over to the Canes, who capitalized on the man-advantage on a goal from Jake Bean.
"We knew it was going to be a tough game, you know, a championship game," said Givani Smith. "We obviously respected these guys, and they're real fast and all about speed. We tried to slow them down by finishing checks, playing the body on them."
Next, Julien Gauthier scored a pair of goals for Carolina. The first of the pair came shorthanded with an assist from Nicolas Roy. Roy also had the primary assist on the second, coming with 50 seconds remaining in the period. This made it 5-1 after two.
On a positive note, the Wings pulled even in shots with 22, despite the lopsided score. Nedeljkovic allowed few rebounds throughout the game, making it difficult for the team to score.
"He was good, but just like any goalie that's playing well, you got to get traffic in front of him, put lots of shots on net, try to create rebounds, use his pads for a shot-pass, and we put up 35 shots," said coach Todd Nelson. "I think at one point, we never had a shot in the first ten minutes."

Carolina Hurricanes goalie Alex Nedeljkovic awaits play to resume following a delay. September 20, 2016. (Photo by Author)
The third period would prove to be Detroit's best. Goalie Jake Paterson was replaced by Connor Hicks, and the offense seemed to follow. Bertuzzi led the way in the final frame, scoring from an Evgeny Svechnikov pass at 4:28.
"We came out after the second period and says, just leave everything out on the ice and go battle there," said Svechnikov. "It doesn't matter what the score's at, so we just went in [like it was] 0-0 and shoot the puck, put the puck in the net."

"Our energy was up," said Smith. "We were fighting until the end. You know, those couple late goals there, we knew it was 5-1 going into [the third], so we had to give it all we had in the last twenty minutes. We fought hard, but didn't end up winning."
Carolina's Hudson Elynuik then scored his team's sixth goal with 4:30 to play.
Detroit would press hard in the final five minutes. Bertuzzi scored again, this time from Criscuolo, while Dominic Turgeon found the scoresheet as well (his first point of the tournament).
"Yeah, we knew we were down 5-1," said Bertuzzi. "We talked going into the third, you know, not going down without a fight, and we pushed till the very end. Maybe, if the game was ten minutes longer, we could have battled back, but we fought right to the end [and] we were happy with our effort."

"I thought our one line of Bertuzzi, Criscuolo and Geno were really good tonight," said Nelson. "They had a monster game for us. They're carrying the play when they're out there. You know, Bert got a couple goals and they all factored into the scoring, so those three guys really stood out. Borkowski stood out. On the back end, you know, Russo, Hicketts. Those guys stand out as well. It's the start of training camp basically. We kick it off with this rookie tournament. Now, when main camp starts, the guys have to go into the next three days of practice and prove to Jeff Blashill that they earned the right to play in exhibition games."

Detroit's Tyler Bertuzzi exchanges words with Carolina's Nicolas Roy during Tuesday's championship game. September 20, 2016. (Photo by Author)
With the net empty in the final minute, the Red Wings almost found a fifth goal on a Criscuolo backhand shot, but the score would remain 6-4, giving the Canes the Matthew Wuest Memorial Cup.
"I was telling the guys on the bench, just get it to two goals so I can pull the goalie, and we did so," said Nelson. "The guys never quit and they battled right to the end, and that's why I'm proud of them."
Filip Hronek's Growth
The Czech defenseman was outstanding in his first prospect tournament. The language barrier makes it difficult for on-ice communication, but he is making it work. On Tuesday, he registered two assists, saved a goal, and nearly had another shorthanded rush (he scored shorthanded the previous game).
He was physical, covered his man well, and made smart plays all night, everything a coach wants to see from a defenseman.
"I think we saw him grow as the tournament went on," said Nelson of Hronek. "For a first time player at this tournament, there's always an adjustment period, but I thought he handled himself very good out there. It's a tournament where first year guys are somewhat, not in awe, but they don't know what to expect. And I saw him grow as it went on."
Tournament Wrap-Up
First-time participant Givani Smith says the team can draw a lot of positives out of their second-place finish.
"Oh yeah a lot of positives," said Smith. "We worked pretty hard this weekend and, you know, we didn't get the win that we wanted, but it's still a good week and we all worked hard for the guys, so everyone's feeling pretty positive now, but it just sucks to get the loss there."
He said he enjoyed his first tournament in Traverse City, also noting that the fast pace of play took a little adjusting to in Game 1.
Smith also commented on the leadership of some of the veterans on the roster.
"Some of the guys you've met before and some of the guys, it's your first time meeting them and you're playing hockey with them, but we all came together pretty good. We had really good leaders on this team, like Bertuzzi and Nastasiuk. [They] really helped everyone out."

Detroit forward prospect Givani Smith participated in his first prospect tournament this week. September 20, 2016. (Photo by Author)
Coach Nelson then touched on the transition between the tournament's end and training camp's beginning.
"It's just a great experience for everybody involved," he said of the tournament. "For the players, it gets them involved for main camp. For us as a coaching staff, I think it kind of kicks the rust off. It's a very competitive tournament, and it's well run. A lot of teams are doing this nowadays and I think it's a fantastic idea."
Training camp kicks off on Friday, September 23rd and runs through the 26th.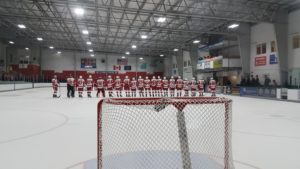 Final Stats
Tyler Bertuzzi finished the four-game tournament with four goals and one assist. Kyle Criscuolo finished with one goal and three assists. Mike Borkowski, Evgeny Svechnikov and Filip Hronek each finished with three points.
Although Chicago finished the tournament with the highest save-percentage (.926), they tied for last place with St. Louis and Minnesota. Only Carolina (.906) and Minnesota (.907) were above .900. Detroit was the lowest at .838.
Not only did Carolina finish with the most goals, they also had to make the most saves (116).