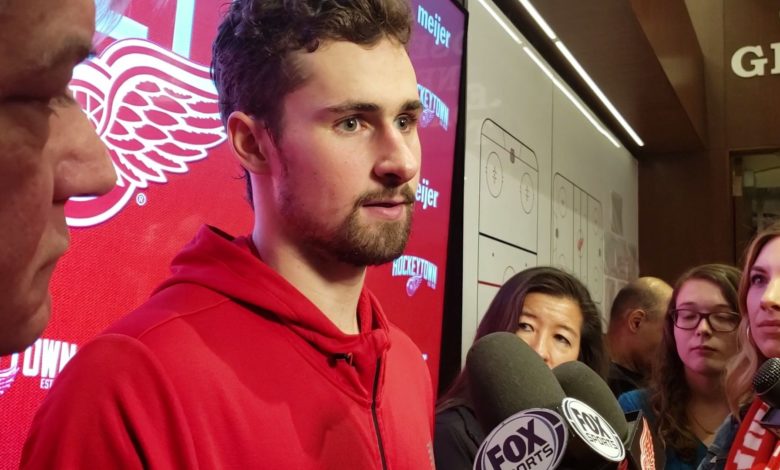 The Red Wings hosted the Ottawa Senators on Friday night. Detroit was coming off a win following Tuesday's victory over the Montreal Canadiens.
—
Tyler Bertuzzi got the Wings on the board when Filip Hronek fed a skilled pass between the skates of two Senators players to the awaiting forward standing to the left of goaltender Marcus Hogberg. Robby Fabbri had the secondary assist. Hronek leads all Detroit defensemen in points with 23. The next highest is Madison Bowey with 13.
Although outshot 10-6 after 20 minutes, Detroit had a good number of scoring chances, especially in the final seconds when there were a couple really close calls as time expired.
On a second period power play, Dylan Larkin took the puck coast to coast, getting past the defense and cutting in on Hogberg, scoring as he crossed the crease. Hronek assisted on this one as well.
22 seconds later and Ottawa's Brady Tkachuk had struck back as he circled around the net of Jonathan Bernier before throwing the puck toward the crease. The puck caromed in off the skate of Patrick Nemeth.
Just past the midway mark of the second, a Mike Reilly shot from the blueline hit Colin White in front of the net, and it made its way past Bernier.
In 3-on-3 overtime, Detroit had multiple chances to win the game on one chaotic sequence. Tyler Bertuzzi cut into the slot, whiffed a on a point-blank range, regained control of the puck and passed it to the incoming Valtteri Filppula, who chipped a shot from the side of the net. The puck skimmed right across the goal line before kissing the far post. Filppula skated behind the net, retrieved his own rebound and fired a hard wrist shot from the other side. Hogberg was able to recover quickly and lunge across the net to make a spectacular glove save. The rebound then came back into the high slot where Mike Green fired a hard shot at the mess of players gathered in the crease. Green retrieved his own rebound for yet another chance, and his next shot hit the inside of the post (nearly both posts). It was a frantic scene. You can watch this all play out below.
With little time remaining in the extra period, Ottawa was intent on feeding a one-timer to their leading goal scorer Anthony Duclair, to no avail.
In the shootout, Detroit sent out Bertuzzi, Larkin and Nielsen, with Ottawa choosing Ennis, Pageau, and Duclair. In the end, Larkin was the only scorer as the Red Wings won 3-2.
Follow me on Twitter @KevinSporkaHOHM