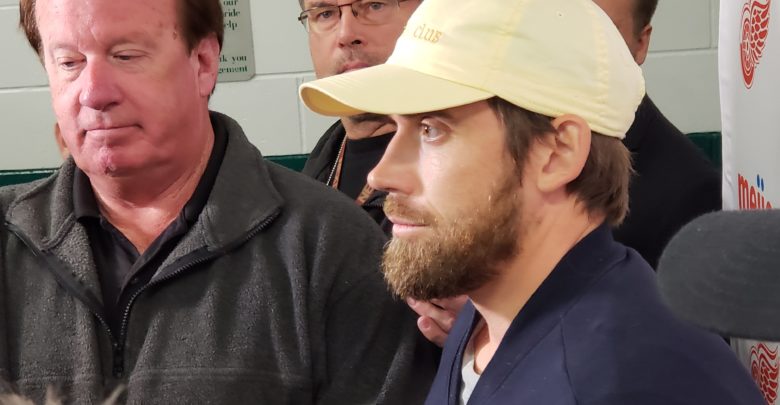 The Red Wings kicked off their Training Camp in Traverse City, Michigan today, and first on the schedule was Ken Holland addressing Henrik Zetterberg's future in the NHL, followed by Henrik himself speaking to the media. Due to lingering back problems, the future Hall-of-Famer has decided to call it a career after being advised by doctors.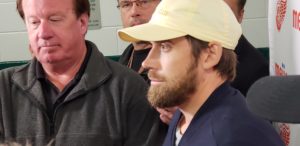 The 37 (almost 38) year old Swedish forward surpassed 80 points twice and even reached the 92 point mark in 2008 en route to winning a Stanley Cup with Detroit. He spent his entire career with the franchise that drafted him. He finished with 960 career points, including 337 goals.
His contract will be placed on long-term injured reserve.
Throughout the day, numerous players offered their farewell messages to their captain.
Holland said Zetterberg wanted consulted with team doctors and also got a second opinion as well before he made the difficult decision.
"He went through his physical with our doctors, and he got a second opinion," said head coach Jeff Blashill. "Obviously I knew it was a potential. When potential comes to reality, you deal with it. My thoughts are, Henrik's been a great player for us, a great leader. Last year I thought there was a lot of nights he was still one of our best players. Certainly an outstanding leader on a day-to-day basis. His example in practice. He's one of the best warriors I've been around."
"There's no secret that he's struggled this summer," said teammate, friend, and fellow Swede Niklas Kronwall. "Any time he tried to push it, it didn't feel great. Can't say enough good things about him, all the stuff that he's battled through. I don't think people realize what he's gone through. To still be able to play three full seasons, it really is incredible."
"Until he saw the doctor, I guess we all had some type of hopes that maybe we could get through this."
For Kronwall, being drafted the year after Zetterberg, the bonds they made were long lasting. However, for some of the newer Red Wings and even prospects, they did not have the opportunity to really get to know him.
Dylan Larkin, growing up in the Metro Detroit area, was able to learn from the captain over the past few seasons.
"I can't remember even watching the Red Wings without Z out there," said Larkin. "What makes him so good, his poise. When he's passing it to you, it's going to land on your stick and you better be ready to shoot it. I don't think there's many players like that left. His vision, he knows where you are at all times. He controls the pace of the game."
Dylan was six years old when Zetterberg entered the league in the 2002-03 season, and he was only three when he was drafted in 1999.
"I didn't see myself last this long probably, when I got drafted back in '99 as a seventh-round pick," said Zetterberg. "Been through all the good things and some low things during my career. But being in one organization for the whole time and being the captain for this organization, I think that's obviously something special."
As to how to fill that giant gap in the depth chart, that does not come with a simple answer. It will have to come in the form of new prospects earning their way onto the Red Wings and gradually gaining experience in the process.
"Obviously there's potential to feel that loss," said Blashill. "Now, how much you feel that [loss], 100% depends on how ready other guys are to fill those roles, both on the ice and from a leadership standpoint. I don't have that answer. We'll prove that answer on a day-to-day basis here. I think we have a bunch of guys who are in a spot that I believe they are ready to fill those roles. But, what I believe doesn't matter. What we go and prove is what matters. Obviously Hank went through a spot last year where he didn't practice the whole second half of the year. When I saw that, I knew there was potential for this [announcement] today, because you just can't keep doing that. It's one thing to do it for two months; it's another thing to do it for a season. I'm not necessarily surprised. I think we're in as good a position as we have been in terms of a bunch of young guys ready to take a step. Now, are they ready to? They'll prove it here over the next number of weeks."
The GM said the same, in fewer words.
"As we move forward, there's an opportunity for somebody in that locker room, from a leadership standpoint and from time-on-the-ice, to grab it," Holland said.
To help this transition, the veterans on this team, including Thomas Vanek (who last played for Detroit two seasons ago) will serve to add to the leadership dynamic.
"First of all he's a great person," said Vanek. "Off the ice that's what sticks out for me, more so than anything. I had the pleasure of playing with the Sedins last year. It was nice to see them get a nice send-off. That's the only unfortunate part that Z might not get. For the career that he's had, he deserves that."
Having played with and against Zetterberg over the years, Vanek had high praise for his talents.
"His hockey IQ is off the charts," he said. "His last two years, to me, he was still one of the best players. The way he protects the puck, the way he makes his linemates better. And that to me is signs of a very good hockey player if you can make players around you better. Z did that a lot with many, many, many guys next to him."
"Not fun [laughs]. You think you can get him, but then again he protects it so well, he turns back, and he uses his teammates. He's a tough one to read. He was one of the best, in my era, my 14 years that I've played."
Goalie Jonathan Bernier also faced Zetterberg a number of times in his career. As for how it was for him to go up against him:
"Tough [laughs], being a goalie," he said. "He's obviously a Hall-of-Famer. His passion for the game and his work ethic. Since I've been here, the only thing I hear is how great he was in the room. And we're definitely going to miss that."
There were mixed emotions for Hank. Yes, he was leaving a team in full rebuild mode in dire need of veteran mentors, but on the other side, he knew that his body was incapable of going through the harsh rigors of another full campaign. And the thought of causing further injury to his body was not worth the risk, and nobody can blame him for making this correct choice.
"I played with some great teammates, had some great teams here throughout the years," said Zetterberg. "In '08 winning the Cup probably was the highlight. But also I thought we had some great teams around that too. In '09 I thought we were close that year too."
And having played in all those big games alongside him,
"Regardless of the state of the game, whether you needed a goal or you needed to shut it down, he was on the ice and he made it happen," said Kronwall. "That's what stands out among the great players. Stevie [Yzerman] was the same way; Nick [Lidstrom] was the same way."
Holland said he was unsure if Zetterberg would be sticking around throughout the season to help provide some leadership, adding that it's hard to provide leadership when you're not in the locker room on a daily basis. That responsibility will have to be transferred another player.
When asked if he was interested in continuing to be involved and have a career in hockey, Zetterberg said that it was simply too soon to make that decision. Regardless of whether he remains involved in hockey or not, the Red Wings are grateful for his long-term dedication, commitment and success he brought to this team, and for his ability to take the torch from captain Nick Lidstrom when the legendary defenseman retired five years ago.
How the Red Wings will fare in this upcoming season without their captain is unclear, and who takes the leadership reins remains to be seen, but one thing is for sure. The talent rising in this organization is ready and willing to prove themselves and continue to rise in the ranks and eventually to step up and become the new leaders of this team in the years to come. The future is bright in Detroit.
Follow me on Twitter @KevinSporkaHOHM and continue to follow all the news from Red Wings Training Camp in Traverse City right here at HOHM.