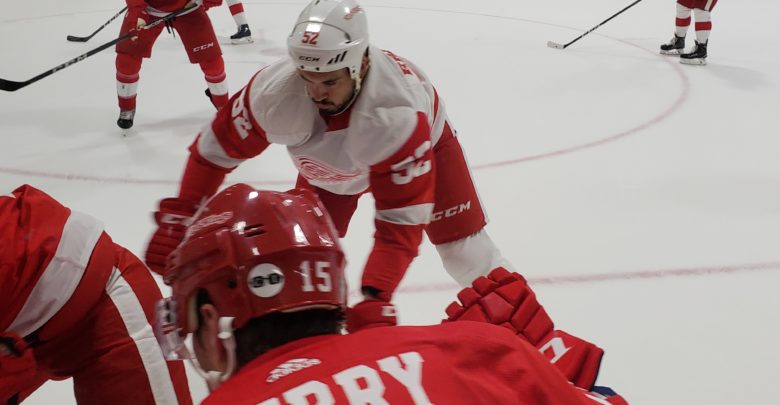 Team Red defeated Team White 4-2 in the Red and White game on Day 3 of Red Wings Training Camp. Recently retired Henrik Zetterberg was on hand to watch the competitive intra-squad matchup.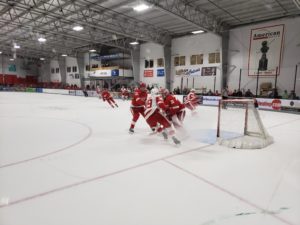 Jonathan Bernier was outstanding early in the game, which consisted of two 25-minute halves, of which the final five minutes of each half were played 3-on-3. He made an incredible save and stopped the rebound as well, catching the puck in his glove while falling backward.
Filip Zadina had a grade-A scoring chance on a one-timer from a pass by Thomas Vanek, but was unable to lift the puck over the pad of Bernier.
Jonathan Ericsson showed his physicality, muscling down the scrappy Dylan Sadowy along the boards with multiple hard shoves. It was a physical first half. A few minutes later, Evgeny Svechnikov bowled over Ericsson.
Team White scored first, as Darren Helm scored on a breakaway snap shot following a long pass by defenseman Nick Jensen at the 8:06 mark.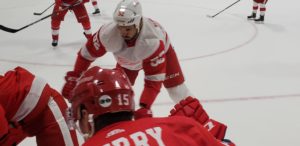 Dominic Turgeon earned a penalty shot, trying to backhand on the short side, but it was stopped by Jimmy Howard (all penalties result in a penalty shot).
At the 11:20 mark, Helm was tripped up, nearly crashing into the boards head-first, and earned a penalty shot. He snapped a quick shot five-hole on Howard to take the 2-0 lead. Shots were 10-4 for Team White.
Next, Svechnikov got Team Red on the board. Michael Rasmussen, a fellow first-round pick, hit the crossbar, and Svechnikov was on the doorstep for the rebound.
Christoffer Ehn tied it up, intercepting a breakout pass and wristing a shot past Bernier from the slot. It was a very nice shot.
Luke Glendening almost found the scoreboard, as he ripped one off the crossbar later in the half.
When the first 3-on-3 session commenced, the speed was on display. And the fastest of the group, Andreas Athanasiou quickly found the back of the net. Czech defender Libor Sulak set up the play with a long pass.
—
When the second period started, there was a different tempo. It was a bit slower and less physical, but passes were crisper and plays were tighter. It was less chaotic.
Zadina made it 4-2 from Vanek and Athanasiou on a goal-line pass play. He continued to perform well in Traverse City, continuing his momentum from the team's second-place finish in the Prospect Tournament last weekend.
Glendening and NHL veteran Jussi Jokinen roughed each other up with a lot of pushing and shoving along the boards, nearly getting into a tussle at one point.
Wade Megan, a free agent invitee, had a penalty shot in the half as well, but he missed the net high.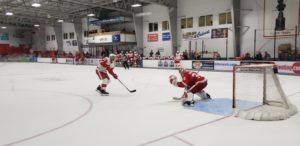 Patrik Rybar and Harri Sateri did not face quite as many scoring chances in the second half, but both played well.
Players that stood out to me in this scrimmage were:
Filip Zadina, Thomas Vanek, Michael Rasmussen, Darren Helm, Frans Nielsen, Tyler Bertuzzi, Christoffer Ehn, Andreas Athanasiou, Joe Veleno, Joe Hicketts, Dennis Cholowski, Filip Hronek, Vili Saarijarvi.
Training Camp continues on Monday and Tuesday before the Wings begin their pre-season with games on Wednesday, Thursday, and Saturday.
Follow me on Twitter @KevinSporkaHOHM for continued coverage of Red Wings Training Camp