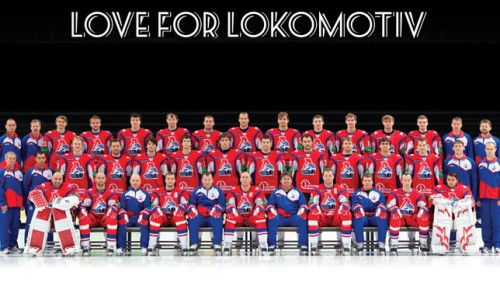 It was nine years ago today that one of the most devastating hockey tragedies of all-time occurred. At approximately 4:05pm Moscow Time on September 7th 2011, Yak-Service Flight 9633 carrying both players and coaching staff of KHL's Lokomotiv Yaroslavl ran off the runway before lifting off, struck a tower mast, caught fire and crashed a little over a mile from the airport.
Forty-three of the forty-five on board died at the crash site while two were rescued from the wreck. However, Alexander Galimov, died five days later in the hospital thus leaving only Alexander Sizov, the avionics flight engineer, as the sole survivor.
It will always be a truly dark day in hockey history for not only losing so many great hockey players but an entire team to such a disaster right as the KHL season was getting started.
Here is a great documentary on the incident and hockey in Lokomotiv:
A ceremony was held for the team in Minsk, Belarus as well:
Listed below is the full roster of players lost in the crash along with staff members:
| Player | Age | Country | Position |
| --- | --- | --- | --- |
| Vitaly Anikeyenko | 24 | Russia | D |
| Mikhail Balandin | 31 | Russia | D |
| Gennady Churilov | 24 | Russia | C |
| Pavol Demitra | 36 | Slovakia | C |
| Robert Dietrich | 25 | Germany | D |
| Alexander Galimov | 26 | Russia | LW |
| Marat Kalimulin | 23 | Russia | D |
| Alexander Kalyanin | 23 | Russia | RW |
| Andrei Kiryukhin | 24 | Russia | RW |
| Nikita Klyukin | 21 | Russia | C |
| Stefan Liv | 30 | Sweden | G |
| Jan Marek | 31 | Czech Republic | C |
| Sergei Ostapchuk | 21 | Belarus | LW |
| Karel Rachůnek | 32 | Czech Republic | D |
| Ruslan Salei | 36 | Belarus | D |
| Maxim Shuvalov | 18 | Russia | D |
| Kārlis Skrastiņš | 37 | Latvia | D |
| Pavel Snurnitsyn | 19 | Russia | F |
| Daniil Sobchenko | 20 | Russia | C |
| Ivan Tkachenko | 31 | Russia | LW |
| Pavel Trakhanov | 33 | Russia | D |
| Yuri Urychev | 20 | Russia | D |
| Josef Vašíček | 30 | Czech Republic | C |
| Alexander Vasyunov | 23 | Russia | LW |
| Alexander Vyukhin | 38 | Ukraine | G |
| Artem Yarchuk | 21 | Russia | LW |
| Name | Age | Country | Title |
| --- | --- | --- | --- |
| Yuri Bakhvalov | – | – | Physician/Massage Therapist |
| Aleksandr Belyaev | – | – | Equipment Manager/Massage Therapist |
| Alexander Karpovtsev | 41 | Russia | Assistant Coach |
| Igor Korolev | 41 | Russia/Canada | Assistant Coach |
| Nikolai Krivonosov | 31 | Belarus | Fitness Coach |
| Yevgeni Kunnov | – | – | Massage Therapist |
| Vyacheslav Kuznetsov | – | Russia | Massage Therapist |
| Brad McCrimmon | 52 | Canada | Head Coach |
| Vladimir Piskunov | 52 | Russia | Administrator |
| Yevgeni Sidorov | – | Russia | Coach-Analyst |
| Andrei Zimin | – | – | Team Doctor |
And finally also a tribute to the crew that was lost in the crash:
| Person | Title |
| --- | --- |
| Nadezhda Maksumova | Flight attendant |
| Vladimir Matyushin | Flight engineer |
| Elena Sarmatova | Flight attendant |
| Elena Shavina | Flight attendant |
| Alexander Sizov | Avionic engineer |
| Andrei Solomentsev | Captain |
| Igor Zhivelov | First Officer |
| Sergei Zhuravlev | First Officer |