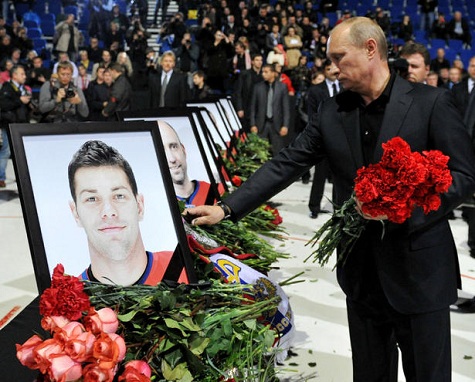 Today marks the 9 year anniversary of the horrific Lokomotiv Yaroslavl plane crash that took the lives of 44 of the 45 people on board including the Lokomotiv hockey team. It may be forever known as the darkest day in the history of the sport of hockey and came as a total shock to the hockey world community.
After a full year from the incident, charges were made to Vadim Timofeev who was the former deputy director of Yak Service Airlines. The claims were that Vadim Timofeev had violated the rules of air traffic safety and air transport operation by letting pilots Andrey Solomentsev and Igor Zhevelov fly with falsified documents.
From Russia Today:
According to the investigators, the official was in charge of flight operations at Yak Service, with control of the pilots' qualification being his direct responsibility.

"By putting the crew in the air Timofeev broke the rules of air transport operations. At the moment of the disaster, that crew wasn't entitled to fly," [Investigative Committee spokesman Vladimir] Markin stressed. "Timofeev had allowed the captain to fly based on falsified documents, and the co-pilot hadn't finished his training on the Yak-42 plane and had no right to be in air."
From Sov Sport:
Investigators are certain that the catastrophe could have been avoided if it wasn't for a number of violations committed by Timofeev, who was responsible for company's flight organization work.  According to an Markin [Prosecutor's Office representative], on the day of the crash the flight crew was supposed to attend re-education sessions for the permit to fly Yak-42 [aircraft], and not to fly.
However it doesn't end there…
Another source had reported that investigators back in December found a "banned drug" in the co-pilot's blood, a drug they said that was used to treat a neurological disorder that causes weakness in both the hands and feet.
It's still heart-breaking now to think how easily such a tragedy could have been avoided after being presented these facts.
As someone who was born in Belarus and followed many of these players including my all-time favorite Rusty (Ruslan Salei), this incident put me into tears when I first learned of the news a year ago. So I would like to take the time to properly give remembrance to all those players that were on board and share some video highlights:

(Lokomotiv Yaroslavl Team Roster 2011-2012)
G
Stefan Liv
G
Alexander Vyukhin
D Mikhail Balandin
D Vitali Anikeyenko
D Robert Dietrich
D Marat Kalimulin
D Karel Rachunek
D Ruslan Salei
D
Maxim Shuvalov
D
Karlis Skrastins
D
Pavel Trakhanov
D
Yuri Urychev
F Gennadi Churilov
F Pavol Demitra
F Alexander Galimov
F Alexander Kalyanin
F Andrei Kiryukhin
F Nikita Klyukin
F Jan Marek
F Sergei Ostapchuk
F Danill Sobchenko
F Ivan Tkachenko
F Josef Vasicek
F Alexander Vasyunov
F Artem Yarchuk
F Danil Yerdakov
Assistant coach:
Igor Korolev
Assistant coach:
Alexander Karpotsev
Head coach:
Brad McCrimmon
On a final note, the re-built team that took the ice won its opener in the 2012-13 KHL season, defeating Sibir Novosibirsk 5-2. (Video Highlights Below)
Love Reading About Hockey?

Subscribe to keep up-to-date with the latest and most interesting hockey news!
| | |
| --- | --- |
| | We hate spam just as much as you |