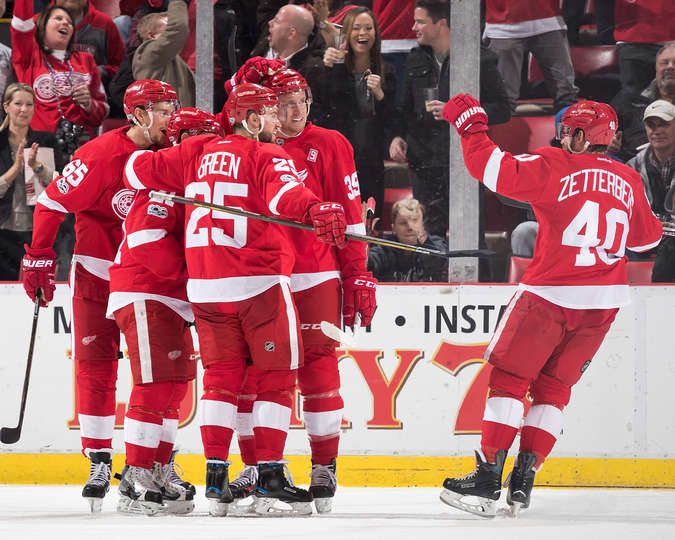 The Detroit Red Wings ended a five-game skid with a win over the hot New York Islanders. Led by interim head coach Doug Weight, the Isles tried to continue their seven-game point streak.
"This has been a resilient bunch that's for sure," said coach Jeff Blashill. "They've been a bunch that doesn't quit. I'd say that's totally because of the leadership in this room. They just find a way to be resilient."
As the game began, it appeared that Detroit had not made the proper adjustments to prevent their opponents from establishing an early lead. Goalie Petr Mrazek allowed a goal only 3:43 into the game on the Islanders' second shot. Josh Bailey successfully one-timed a pass from John Tavares.
Just past the midway mark of the first, Luke Glendening evened the score, redirecting a point shot by Jonathan Ericsson.
Shortly after, New York's Andrew Ladd scored on a long point shot. Niklas Kronwall appeared to have obstructed the vision of Mrazek.
After a lackluster opening stanza, the Wings would return with a stellar second period. Despite being outshot 21-9 seven minutes in, the team would surge for three goals.
Darren Helm scored on a one-kneed slapper, beating Thomas Greiss glove-side.
2:20 later, Anthony Mantha intercepted the puck at the Isles' blueline, passed to Tomas Tatar, and was ready to receive the return pass for a well-earned goal to take the lead.
"I just read the play, intercepted a pass, and I saw [Tatar] kind of on a breakaway, so I decided to give it to him," said Mantha. "He bought just enough time to give it back and I had a complete open net."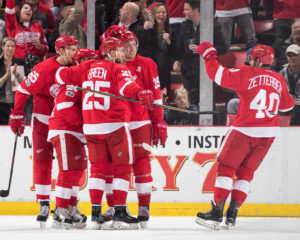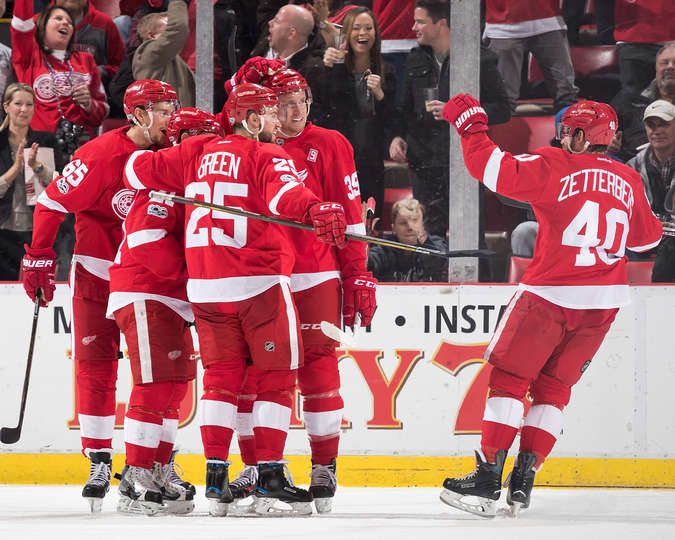 Islanders captain John Tavares scored a power play goal to even the score at three with under three to play in the period, and Detroit captain Henrik Zetterberg restored the lead only 23 seconds later.
Detroit held onto the 4-3 lead until late in the third period, when veteran forward Jason Chimera tied things up exactly one full period after Zetterberg's marker (17:34).
As the game seemed destined for overtime, Detroit defenseman Danny DeKeyser scored a pinball-style goal to win the game with only 28 seconds to play. The puck changed directions twice at the expense of two Islanders players.
The Red Wings won 5-4.
"To be honest, I thought we played a pretty good game tonight," said DeKeyser. "There were a few lapses…but we had good energy tonight."
A Look Ahead
Detroit takes on the Nashville Predators on the road tonight (8:00 ET).
Next week, they will play Columbus on Tuesday (7:30), Washington on Thursday (7:00), and Columbus again on Saturday (5:00)
Other News
Mike Babcock's Toronto Maple Leafs claimed defenseman Alexey Marchenko off waivers, as Detroit attempted to assign the young Russian blueliner to the AHL's Grand Rapids Griffins.
Jimmy Howard will start in goal for the Griffins tonight as part of a conditioning stint.
Frans Nielsen (day-to-day) will not play Saturday, but defenseman Brendan Smith will.
Follow me on Twitter @KevinSporkaHOHM