Featured
Return of Justin Abdelkader Sparks Detroit Red Wings Game 3 Win Over Bolts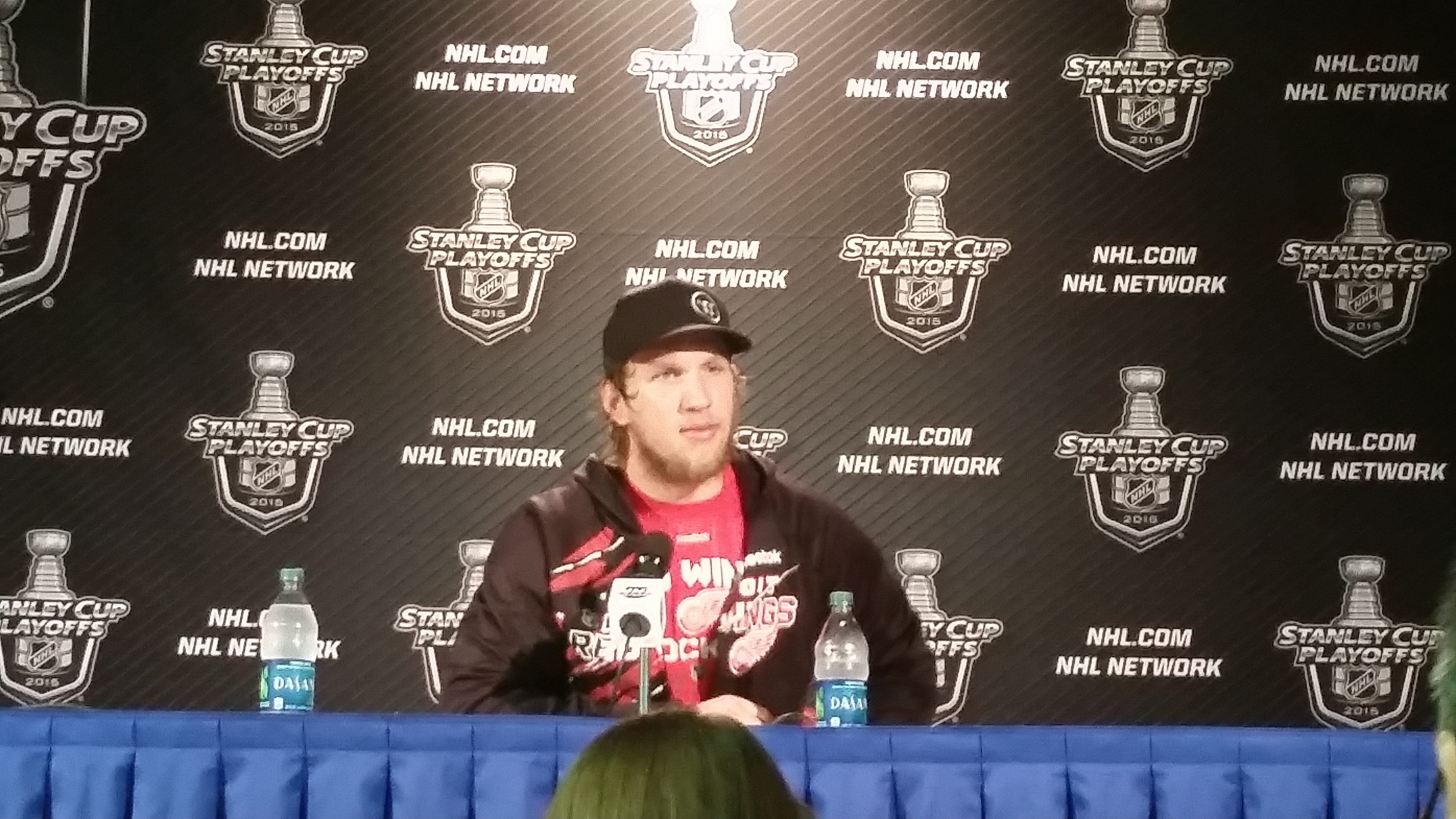 The return of Detroit forward Justin Abdelkader sparked a Game 3 victory in Joe Louis Arena, earning the Red Wings a 2-1 lead in their Round 1 series against divisional rival the Tampa Bay Lightning. After facing a combined 76 shots in the first two games, the Wings limited them to just 22 (to Detroit's 21) on Tuesday night.
Detroit's defensive game was stellar, most notably their man-to-man coverage of Tampa Bay's speedy forwards.
"We did a good job at staying right on them and we skated well tonight," said Riley Sheahan, "so that's something we're trying to do is limit their chances and limit their ice, so I think we did a good job of that tonight."
There were dozens of breakaways in the first two games, while the Bolts were unable to find any quality scoring chances throughout the game. The defensemen played responsibly, especially Brendan Smith, returning from his healthy scratch designation. The forwards backchecked the entire game and the team as a whole played what coach Mike Babcock stresses on a daily basis, the 60-minute game.
Through the first two periods, Detroit was forced to hold a slim one-goal lead that they received following a goal near the midway point of the first stanza. Pavel Datsyuk led a rush down ice before handing the puck off to Tomas Tatar. Tatar quickly fired a low slapper from the corner of the blueline that was deflected by Datsyuk and in.
In the second period, they had to kill off three penalties, including a 1:04 5-on-3 following a Luke Glendening interference penalty and a Danny DeKeyser delay-of-game call shortly after.
"It was huge," said Sheahan of his team's penalty killing efforts. "They didn't really get much. It builds confidence. It gets the crowd into it. We sort of build off it and then we can get something going after that."
Fortunately, this situation, which could have turned the tide either way, would serve as a turning point for the Red Wings, although it did not show immediately on the scoreboard. Tampa would press hard in the period's final minutes, but Detroit was able to withstand the increased pressure.
Riley Sheahan would score his first career post-season goal early in the final period, resulting from a great passing play by Abdelkader. Sheahan received a long pass before proceeding to draw goalie Ben Bishop from his crease and backhanding a quick shot past the six-foot-seven netminder.
"It was unbelievable," said Sheahan. "I can't really put the feeling into words. It's just good to help the team win and we got to keep this little win streak we got going."
Abdelkader's impact on the power play was immediately apparent.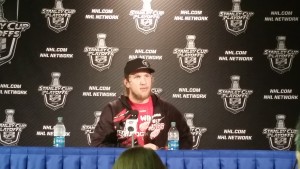 His presence would also be made known just two minutes later, after he saw Tampa forward Cedric Paquette trip Petr Mrazek. A scrum ensued and Abdelkader ensure that Mrazek was not to be messed with. His grit and determination was a welcomed sight for the Wings, who have lacked his tenacity earlier in the series.
Glendening would add a long empty-netter for good measure to seal the 3-0 shutout for his team, his second goal of the playoffs.
Mrazek played outstanding, stopping 22 of 22 shots, none more important than his thwarting of Brian Boyle's shorthanded breakaway midway through the third. Boyle scored a shorthanded breakaway goal in Game 1 and nearly repeated the feat.
Both Mrazek and Bishop are great puck-handling goalies and both seem to play the puck every chance they can get. Mrazek has drawn many a comparison to his idol Dominik Hasek.
"They both are confident with the puck," said Sheahan. "You kind of got to keep it away from them, or else they'll break their team out. Mrazek's done a great job in that area. They're both great goaltenders."
Forward Landon Ferraro, playing in his first NHL post-season has adjusted very well to the tempo of the game and has gelled with linemates Glendening and Drew Miller. Many will remember Ferraro and Glendening when they helped the AHL Grand Rapids Griffins win the 2013 Calder Cup against Tampa Bay's AHL affiliate the Syracuse Crunch. The Griffins would win in six games defeating future Bolts Tyler Johnson, Ondrej Palat, Cedric Paquette, Andrej Sustr, Mark Barberio, J.T. Brown, and Vladislav Namestnikov.
"I mean, obviously there are similarities and there are differences," said Ferraro. "This is just a bigger stage. This is what everyone works for, to get a chance to contend for a Stanley Cup. At the same time, you're working just as hard as you worked then. You're trying to get to the top of your league. Now it's just about making sure we're getting ready for Game 4."
Describing his own game, he said "I just need to play like I have been. Tonight wasn't as good as Games 1 and 2 for me, but at the same time, I thought I did alright, and I'm looking forward to making sure that I get back and get moving a little more for Game 4."
When asked if he was given any advice going into his first post-season from his father Ray Ferraro, who played in 1,258 regular season games and 68 playoff games over the course of his 18-season NHL career:
"He said just make sure that, you know, it's gonna be a little bit faster, and just make sure I play like I did the three games before and just enjoy it."
Game 4 is tomorrow at 7:00 PM in Detroit.
Follow me on Twitter @KevinSporkaHOHM
Love Reading About Hockey?

Subscribe to keep up-to-date with the latest and most interesting hockey news!
| | |
| --- | --- |
| | We hate spam just as much as you |