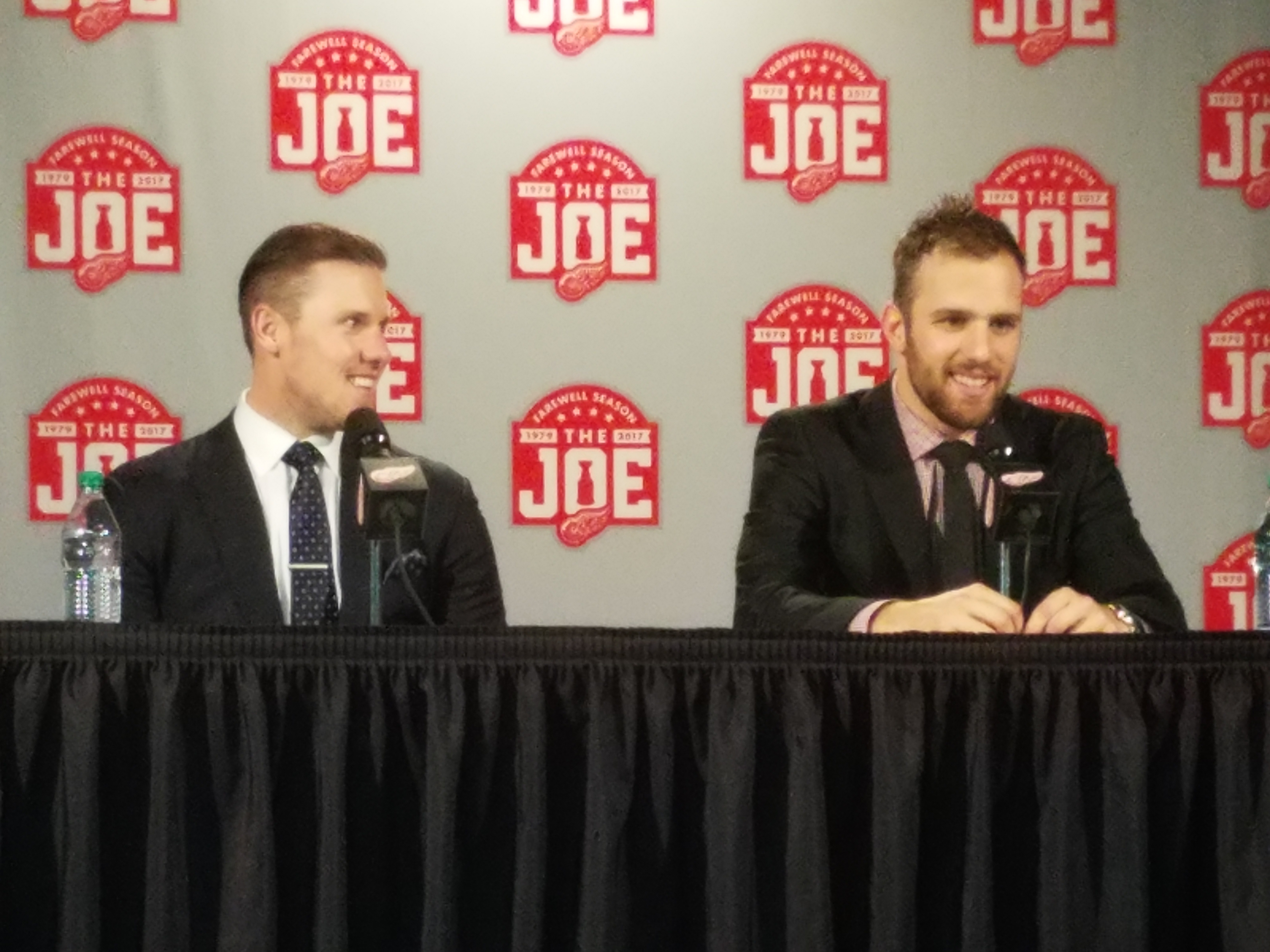 It was a special night at Joe Louis Arena for many reasons. It was most notably, the final game at the storied building. It was also Henrik Zetterberg's 1,000th game. But, Riley Sheahan added another reason.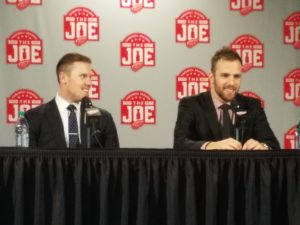 It was a rough season for the forward. He had not scored in 79 games this season, coming off a career-best 14-goal campaign last year.
Many had a feeling that he was saving that first goal for the last game. It turns out, he had two goals.
Just 7:09 into the first period, he scored the game's first goal after he wristed a shot in close on Devils netminder Cory Schneider. Frans Nielsen had the primary assist.
"It was a huge relief," said Sheahan. "Unfortunately, it came a little late. I think the guys rallied pretty hard tonight and we ended this final season at the Joe with some good effort."
"When he got his first one, I almost jumped out of my skates I was so happy for him," said Jimmy Howard. "I had a smile from ear-to-ear and he said he could see it from the bench. So I was really excited for him."
It had been a full calendar year since he last scored. Yes, 365 full days. The website "didrileysheahanscore.com" kept track of that unfortunate stat.
"It's been a rough year for him, scoring-wise," said Henrik Zetterberg. "He had chances all year…When he scored that first one, everyone was really, really happy. And then, to have him score the last goal at the Joe, I think that was a perfect player to have that."
It was the first of four goals the Red Wings would score in a 4-1 victory. The last of those also belonged to Sheahan.
The puck skated across the blue paint right to the tape of #15 and he wasted no time jumping on the loose puck.
"It was kind of all a blur (laughs)," said Sheahan. "Niels made a great play on the first one; the second one was just kind of a good bounce there through the crease and had a wide-open net, so it was nice to get a bounce like that."
All of his teammates were elated that the long-awaited goal came on such a historic night.
"I don't remember being that happy for an individual scoring a goal," said Niklas Kronwall. "I don't even remember the last time. Maybe when Nick [Lidstrom] scored his hat trick. But that was really special, for him to get us started and get the last one was just so fitting."
"I thought it was great," said Blashill. "I can tell you that there was 19 very, very happy teammates and a happy coaching staff for him. I think he's had lots of chances and it just hasn't gone in for whatever reason, but I think he's had lots of chances this year. So for it to go in I thought was a great thing so he could end the year without having to deal with that."
Zetterberg also had two points on the night, a goal and an assist.
It was the second period's lone goal, which made it 3-0. Gustav Nyquist made a great play to set up the goal.
Zetterberg finishes the season with 68 points, besting his totals from the past five years and nearly equaling his 69 point campaign of 2011-12.
At 36 years old, he played each of his team's 82 games for the second straight season (third overall).
The win was followed by a "Farewell to the Joe" ceremony, which took place on the ice.
Follow me on Twitter @KevinSporkaHOHM