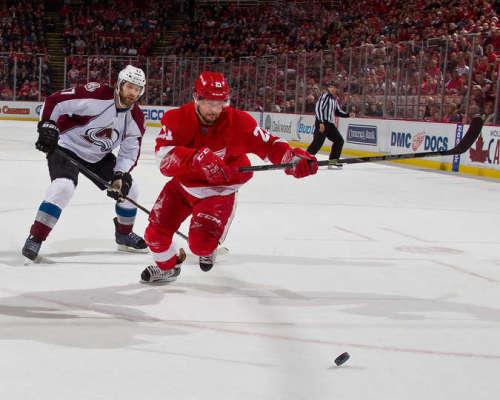 The Red Wings finally made it past the third round of the shootout on Sunday night. In fact, they reached Round 9…and then they lost.
The team has now lost in six straight, scoring an average of one goal per game in the last five games. The offense fire that helped Detroit score 33 goals in eight games has long been extinguished, and a noticeable scoring drought is in full effect.
Petr Mrazek (Detroit) and Calvin Pickard (Colorado) were locked into a goaltending duel that was scoreless through two periods.
It was easy to see how Pickard has achieved his outstanding rookie season stats. The win last night marked his third consecutive game in which he allowed only one goal, including a 47-save effort against the Pittsburgh Penguins late last week. He has a 2.06 GAA and .939 SP in 13 appearances while playing for the injured starter Semyon Verlamov.
Mrazek, also a 22-year old rookie isn't too far behind in those categories. The Czech netminder carries a 2.24 GAA and .927 SP in six games. He is also the only Red Wings goalie to win in a shootout this season.
Both young goalies' talents were on display Sunday.
Pavel Datsyuk would break the tie at 4:52 of the third period. Riley Sheahan and Henrik Zetterberg assisted on the power play marker.
Despite turning the puck over 14 times (to Colorado's 8), the Red Wings were poised to complete the 1-0 victory. They had played responsible defense all throughout the contest, limiting the amount of pucks that Mrazek had to stop. However, late in the final stanza, defenseman Erik Johnson would score a power play goal of his own to bring the teams even again.
It was time for a shootout. Detroit would either be 2-6 or 1-7 in the skills competition after the night was over.
Prior to the night, the Wings had sent out six different shooters throughout the season (including Andrej Nestrasil, who is now a member of the Carolina Hurricanes): Datsyuk (2-for-5), Gustav Nyquist (2-for-7), Henrik Zetterberg (0-for-2), Tomas Tatar (0-for-3), and Darren Helm (0-for-1).
Detroit would again elect to shoot second. Colorado's Nathan MacKinnon would shoot first, and score. Matt Duchene made it 2-0 in Round 2, before Nyquist and Tatar both scored to make it 2-2 after three rounds. Ryan O'Reilly, Riley Sheahan, Gabriel Landeskog, Johan Franzen, Danny Briere, Niklas Kronwall, John Mitchell, Henrik Zetterberg, Tyson Barrie, and Tomas Jurco would all fail to score, before Jarome Iginla would win it in Round 9.
"We did some video on [Pickard] this morning," said Sheahan. "He hasn't been in many shootouts, saw a lot of guys going glove and not having that much success, so I thought maybe if I could get one blocker that maybe it would go in, but he made a great save."
In the end, it would be the same result for Detroit, who would indeed fall to 1-7 in the shootout.
"I personally [like the shootout] because I feel like it's fun," said Tatar, who scored his first shootout goal of the season. "Maybe if they would come up with something else it would be fun too. I think in the AHL they're trying 3-on-3. I'm not sure how that's going, but shootouts are fun for players, and I think fans like it too. But it's a spin on the roulette, you never know which way it will go, so it's like fifty-fifty points."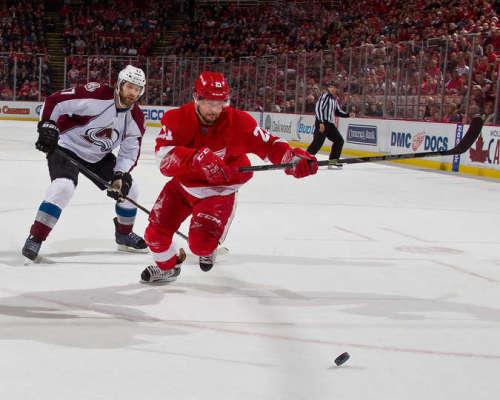 I'm not sure Red Wings fans are enjoying the shootout much, and I assume everyone is OK with trying out the 3-on-3 plan. Everyone except for the New York Islanders, who are undefeated in shootouts this season.
Detroit is slowly losing their lead in the Atlantic Division, with Montreal and Tampa Bay both at 44 points, and Toronto only two points behind at 41.
In the home-heavy month of December, Detroit has a record of 2-1-4 (six out of a possible fourteen points) at Joe Louis Arena. Johan Franzen has scored only one goal in his last sixteen games.
Only two home games remain for Detroit before they begin the road-heavy months of January (8 of 12, 67% away) and February (9 of 11, 82% away).
They will take on the Buffalo Sabres on Tuesday night at 7:30 ET.
Follow me on Twitter @KevinSporkaHOHM
Love Reading About Hockey?

Subscribe to keep up-to-date with the latest and most interesting hockey news!
| | |
| --- | --- |
| | We hate spam just as much as you |