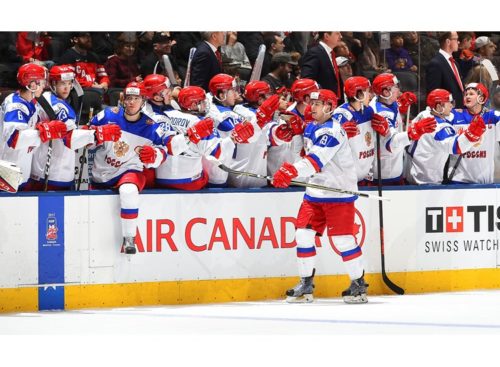 Russia scored two goals in the first period—including one from center ice—to defeat Denmark 4-0 and advance to the semi-finals in Montreal on Wednesday.
Captain Kirill Kaprizov had two goals for the winners and now leads the tournament in goals (7) and points (10).
Ilya Samsonov had an easy time in goal, stopping only 14 mostly harmless shots in the Russian cage for the shutout.
The Danes had plenty of chances on the power play but went 0-for-6.
"It's a bad thing we took so many penalties," defenceman Sergei Zborovski said, "but we watched a lot of video before the game to try to improve our penalty killing. We blocked a lot of shots and didn't give them many chances."
This marked the third straight year Denmark has stayed in the top pool of the U20, the third time Denmark has qualified for the quarter-finals, and the third year these two teams have faced each other.
In 2015, the Russians needed a shootout before winning, 3-2 in the round robin, and last year the game went to overtime before the Russians prevailed, 4-3 in the quarters.
"I'm very proud of our team," said coach Olaf Eller. "We had a phenomenal tournament, but today we didn't get the bounces we've gotten in previous games. I think we made a bit more progress this year than last year and the year before."
"We made history in the round robin," enthused Christian Mieritz, "and for a small country like Denmark to compete here with huge hockey countries is amazing."
And now the Russians will play the winner of tonight's United States-Switzerland game on Wednesday. One thing is for certain, Zborovski said: "We have to have a better start. We have to be ready and play hard the whole game."