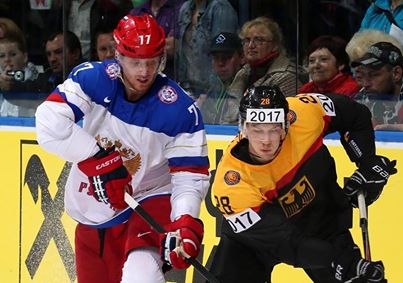 After blowing an early 2 goal lead to Belarus and going on to lose 5-2 the day before, Germany came into today's game against Russia in desperate need of points to have any shot at making a playoff spot. It looked great through the first forty minutes as the two teams skated to a deadlock and scoreless game.
Germany knew it was do or die going into the third but Russia once again showed that you just can't keep them quiet for three periods. Only 3:58 into the third and Russia's Vadim Shipachyov put one by Philipp Grubauer on the power-play. Then just a few seconds through the halfway point of the third, Russia doubled the score with a goal from Sergei Shirokov.
Germany pressed consistently through the game throwing 9 shots each period with Russia just edging them in total shots for the game at 31-28. An empty netter by Viktor Tikhonov put the game finally away and gave Russia the 3-0 victory.
With the win, Russia remains perfect by winning all six of their first games in regulation and extending their Group B lead in the standings. As for Germany, the loss officially crushes their contention for a playoff spot and keeps them sitting in 7th place of Group B.