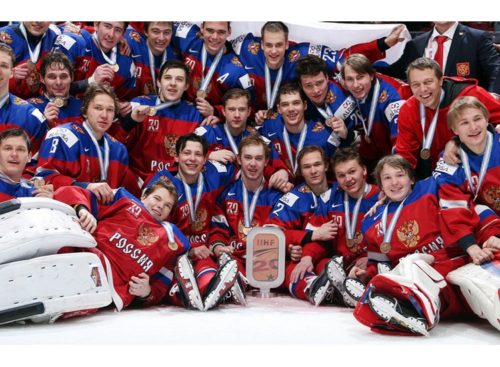 Russia edged Sweden 2-1 in the 2017 IIHF World Junior Championship bronze medal game on Thursday. Denis Guryanov scored the overtime winner at 0:33.
The goal came from a miscue. Swedish defenceman Rasmus Dahlin, one of two 2000-born players in this tournament, attempted to feed the puck back to scoring leader Alexander Nylander, who couldn't control it. Guryanov jumped on the puck and surprised everyone with a quick backhander that slid past Swedish goalie Felix Sandstrom.It's Russia's seventh straight World Junior medal. The streak includes gold (2011), silver (2012, 2015, 2016), and bronze (2013, 2014, 2017).
"I'm proud to keep this streak going for Russian hockey," said captain Kirill Kaprizov.
Guryanov stepped up in the playoffs. The 19-year-old forward from the AHL's Texas Stars also scored two third-period goals in the 4-3 semi-final loss to the United States, and put two pucks in the net during the shootout finale.
"It's just amazing to win a medal, especially in the Bell Centre, my home rink," said defenceman Mikhail Sergyachov, who played three games for the Montreal Canadiens at age 18 this season. "It's special. Our goalie Ilya Samsonov was amazing. He's an NHLer, for sure."
It's the third straight year with no medals for Sweden, which also finished fourth in 2015 and 2016. They settled for silver in 2013 and 2014.
"We had a lot of chances to put the game away early," said Rasmus Asplund. "We played well but we made too many mistakes."
The last Swedish gold – the first and only one since 1981 – came in 2012 under coach Roger Ronnberg, with Mika Zibanejad scoring the 1-0 overtime winner versus Russia in Calgary. That was also the only other time Sweden and Russia have squared off in a medal game since the IIHF instituted the playoff system in 1996.
Kaprizov said: "Our players were completely exhausted last night after losing — physically and emotionally — but we battled to the very end. We knew a bronze medal is still a medal to be proud of."
In regulation, Jonathan Dahlen scored for Sweden, and Kirill Kaprizov tallied for Russia. Sweden outshot Russia 39-36, and Samsonov saved his best tournament performance for last.
"He came up big for them," said Swedish captain Joel Eriksson Ek. "We needed to maybe get in front and get some tips, get some rebounds. And we weren't able to do that today."
Samsonov, a 2015 first-round pick of the Washington Capitals, barred the door in the scoreless first period, where the Russians took three minors. Sweden, despite outshooting their opponents 15-3, couldn't break through.
Kaprizov drew first blood just 16 seconds into the middle frame. Showing great determination, he cut to the net and flubbed his first attempt, but got the puck away from Dahlin to bang it past Sandstrom.
Kaprizov's goal – his tournament-leading ninth – tied him for the second-highest number of goals in one World Juniors by any player in the post-Soviet era (after 1991). Sweden's Markus Naslund set the all-time record with 13 goals in 1993, while Russia's Pavel Bure had 12 in 1991. Max Friberg, another Swede, scored nine goals in 2012.
About five minutes later, Samsonov was briefly shaken up when Eriksson Ek collided with Carl Grundstrom going to the net, pushing his teammate into the Russian goalie. But Samsonov got up and kept on trucking.
Sweden tied it halfway through the second period on a Russian mistake. Assistant captain Yegor Rykov got the puck right in front of his net, but fluffed his pass, enabling Dahlen to whack it past a surprised Samsonov for his fifth of these World Juniors.
"I saw that he was holding the puck unusually long in that situation, so I tried to pressure him," said Dahlen. "Then I saw he made the pass really quickly and I just tried to get it in the net because the goalie was not ready. It was a lucky play, but it was in the back of the net."
Russia failed to click with its two second-period power plays.
Dahlen got a breakaway with under six minutes left, but Samsonov stoned him on the initial shot and the follow-up. The Russian goalie strained himself while kicking out his right leg to foil a late-period Swedish chance. But again, he soldiered on. Fredrik Karlstrom came close just before the second buzzer, putting one off the crossbar.
Chances for both sides abounded in the third period. Asplund sent a lovely pass to Karlstrom on a 2-on-1 rush, but Samsonov came across to foil him. Guryanov waltzed down right wing and rang one off Sandstrom's left post. Nylander and Grundstrom barely failed to click on a pretty give-and-go.
"We won the first two practice games before the tournament and the five first games in the tournament," said Dahlen. "We won seven out of nine games but we're standing here without a medal. Something was wrong. It's a huge disappointment."
Both teams will hope for better results at the 2018 IIHF World Junior Championship in Buffalo. That American border city was the site of Russia's last gold medal seven years ago.