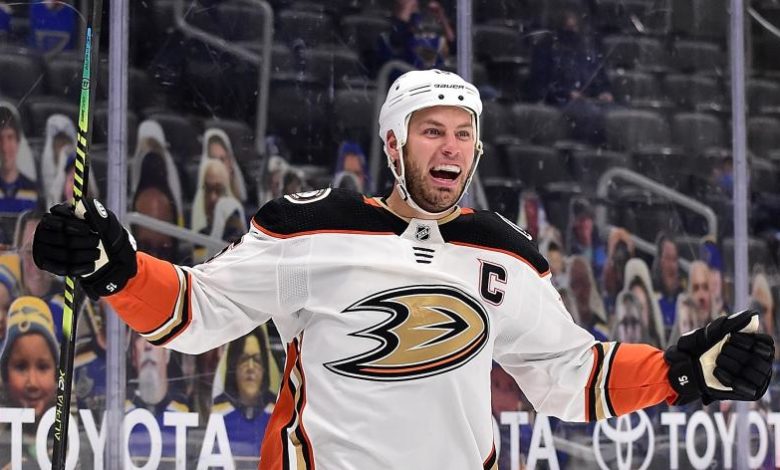 **Breaking News** I'm told Getzlaf is signing a 1 Yr Deal to stay in Orange County with @AnaheimDucks .@espn @NHL @NHLNetwork #TSNHockey #HockeyTwitter

— Kevin Weekes (@KevinWeekes) July 28, 2021
A first-round pick (No. 19) of the Anaheim Ducks in the 2003 NHL Draft, the Regina, Saskatchewan, native is a possession-driving forward who teamed with fellow 2003 first-round pick Corey Perry (No. 28) to form one of the top scoring tandems in the NHL.
Getzlaf made his NHL debut Oct. 5, 2005 and scored four goals and seven points in 16 games prior to a mid-November demotion to Portland of the American Hockey League. He scored the first goal in his first game back Jan. 9, 2006 to start a run of 10 goals and 32 points in 41 games. That included a four-assist game against the Nashville Predators on March 24, 2006, which tied a club record for points in a game by a rookie.
Despite playing in 57 NHL games during the 2005-06 season, Getzlaf finished tied for sixth on the Ducks with 39 points. In the 2006 Stanley Cup Playoffs, he was fifth among rookies with seven points while playing in all 16 of Anaheim's postseason games.
The highlights continued almost without interruption for Getzlaf, who became an alternate captain of the Ducks on Oct. 7, 2008 and was named captain at the start of the 2010-11 season. After scoring two goals in the YoungStars Game as part of the NHL All-Star Weekend in 2007, and finishing the 2006-07 season tied for fourth on the Ducks with 25 goals, he scored seven goals and a team-high 17 points as the franchise captured the 2007 Stanley Cup for its first championship.
A first-time NHL All-Star in 2008, Getzlaf he had 91 points the following season, including a team-record 66 assists, to lead the Ducks and finish tied for sixth in League scoring. Getzlaf finished the 2013-14 season second in the League in scoring with 87 points and was runner-up to Sidney Crosby of the Pittsburgh Penguins for both the scoring title and the Hart Trophy as the League's Most Valuable Player.
A two-goal game March 11, 2015 gave Getzlaf 671 career points and moved him past Paul Kariya into sole possession of second place on Anaheim's all-time scoring list. That put him behind Teemu Selanne, who is the only player other than Getzlaf to record 500 assists with Anaheim. On March 13, 2015, he became the third Ducks player after Selanne and Perry to play 700 games with the club.
Getzlaf broke Selanne's Ducks record of 35 playoff goals when he scored against the Edmonton Oilers in Game 4 of the 2017 Western Conference Second Round. The following season, he was nominated for the King Clancy Memorial Trophy given to the player who best exemplifies leadership qualities on and off the ice.
Internationally, Getzlaf has won two Olympic gold medals for Canada (2010 and 2014).