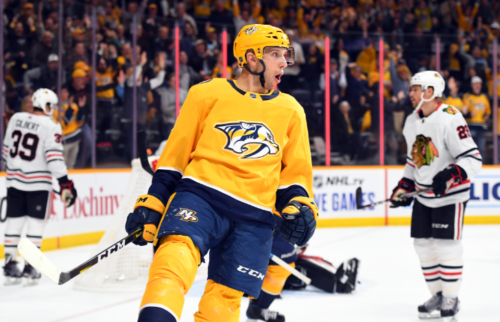 The San Jose Sharks sign Nick Bonino to a 2-year, $4.1M deal with a $2.05M AAV.
Bonino at two years at $2.05m is a solid signing. Very good third line C for Sharks. #NHL

— Jason Gregor (@JasonGregor) July 28, 2021
Drafted by the San Jose Sharks in the sixth round (No. 173) of the 2007 NHL Draft, Bonino instead went to Boston University, where he helped the Terriers win a national championship as a sophomore in 2009. In the championship game against Miami (Ohio) University, Bonino had the primary assist on a goal with 59.5 seconds left to pull BU within 3-2, then tied the game with 17.4 seconds remaining to force overtime.
Before he turned pro, Bonino's rights were traded to the Anaheim Ducks. He signed with the Ducks following his junior season at BU and made his NHL debut on March 26, 2010. He scored his first NHL goal three days later against the Dallas Stars, with an assist from Teemu Selanne.
Bonino had his breakthrough season in 2013-14, with 22 goals and 49 points, but was on the move again after the season, traded to the Vancouver Canucks as part of the deal that sent Ryan Kesler to Anaheim. With the Canucks, Bonino finished the season with 15 goals and 39 points but was traded to Pittsburgh on July 28, 2015.
Upon arriving with the Penguins, Bonino filled a third-line center role. But his two-way play and strong work ethic proved a perfect fit, particularly in the 2016 playoffs, where he centered the "HBK Line" with Carl Hagelin and Phil Kessel. Bonino finished the postseason with four goals and a team-best 14 assists.
In the 2016-17 playoffs Bonino again scored four goals to help the Penguins win the Stanley Cup for the second straight season.
As an unrestricted free agent, he signed a four-year contract with the Predators on July 1, 2017.