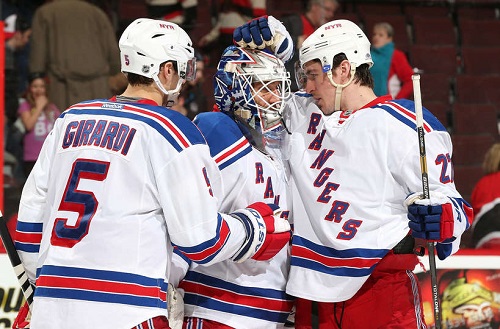 The Ottawa Senators just about mathematically eliminated themselves from playoff contention Tuesday when they lost 8-4 to the New York Rangers.
Of course, they came out hard and went to the locker room with a 2-1 lead following the first period. Then it completely unraveled in the second period when the Rangers scored four unanswered goals.
"It started very well," Robin Lehner said. "This was tough."
Lehner started the game but was pulled in favor of Nathan Lawson of he allowed the fifth goal on 26 shots. Lehner was put back in net when Lawson was injured. "We're trying to go back to basics and work hard," he said. "This is our job. We've got a lot of responsibilities we can't just hang the skates up and go think about golfing."
With the loss and other results from around the eastern conference, their post-season chances fell to 2.4 per cent. Coach Paul McLean blamed the result on the turnovers. "We turned [the puck] over 15 times," he said. "That's been the story of our season to this point."
"We're generating some offense but again, we turn over the puck."
The climb toward the playoffs is becoming insurmountable, but McLean isn't ready to give up. "We're going to get ready to play Tampa Bay and we'll see what happens after that," he said. "We're going to come to practice tomorrow, review tonight and get ready for the next game."
It wasn't Tuesday evening's loss that potentially put the Senators out of contention. They didn't do themselves any favors going 7-9-4 in the last 20 games, a streak that began with a 4-1 loss to the same Rangers team. "We haven't been consistent enough — we haven't been able to play with leads enough, " captain Jason Spezza said. "It's a team we're trying to catch so it's frustrating."
With 14 games remaining, the Senators will host the Tampa Bay Lightning Thursday evening at Canadian Tire Centre.