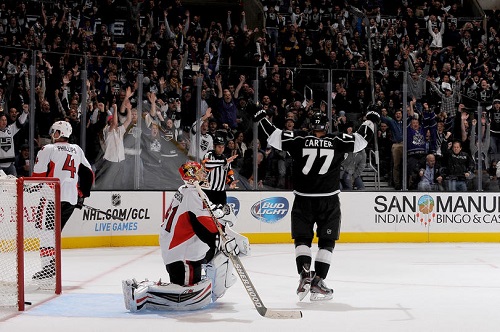 The Ottawa Senators lost 4-3 to the Los Angeles Kings in overtime Wednesday evening — despite rallying from a 3-0 deficit.
Sens sniper Bobby Ryan said it was somewhat satisfying to leave L.A. with a point.
"Speaking for myself, I'm pretty proud of the way the guys acted in here and came back to find a way to get a tough point in a tough building and to start the roadtrip off, not on the right foot, but on a better foot than it could've been," he said.
Ryan scored his first goal as an Ottawa Senator in the tilt it said it felt good.
"The first two games I felt like there were opportunities and I didn't capitalize," he said. "Today, it found a way to go in."
His goal was also Ottawa's first powerplay tally of the season.
Missing between Bobby Ryan and Milan Michalek was captain Jason Spezza as he was kept out lineup with a groin injury.
McLean explained the decision pre-game.
"The fact that we don't want this groin injury to become chronic and be something that we're saddled with all year long, he said. " He's made some great progress since the game on Saturday night and we want to continue that process going ahead."
"We just felt that giving him three more days before we play in San Jose gives him a real good opportunity to work with Gerry [Townend] and to get stronger every day and come out of the woods on Saturday."
Stephane Da Costa was slated to replace Spezza on the first line but the lines were juggled from the second period on.
As for his team's performance, McLean nailed it on the head. Penalties.
"Well I think penalties, penalties, penalties, penalties," he said. "If you're going to take penalties in this league, especially consecutive penalties, and give the opposition 5-on-3s and 4-on-3s, it's pretty reasonable to expect that in the NHL, you're going to get goals scored on you."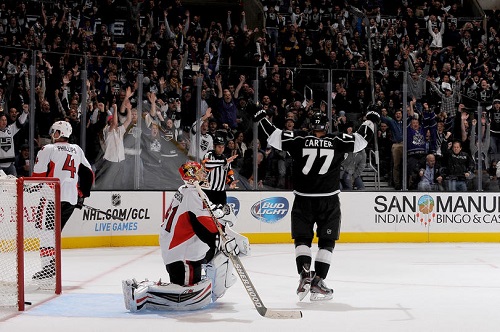 The Sens took six penalties over the duration of the game and the Kings scored on three of those powerplays. Jeff Carter converted on a 5-on-3 in the first, and again on a 4-on-3 to hold off a Sens comeback in overtime.
McLean noted key players putting the puck in the net.
"I [think] Bobby's been fine, good to see him score. [Michalek] scored as well. Important players for us to get on the mark," he said. "I thought we had a lot of good players on our team tonight and at the end of the day, we get a point in a tough building and that's good."
The Sens are starting their season off a little differently this time around. In 2012-13, they played two of their first three games at home and only allowed two goals.
This time around, they've allowed ten goals in their first three games, all on the road.
Perhaps it's time for a trip home.
But before they can face the Devils at the Canadian Tire Centre on Oct. 19, they must go through San Jose, Anaheim and Phoenix.