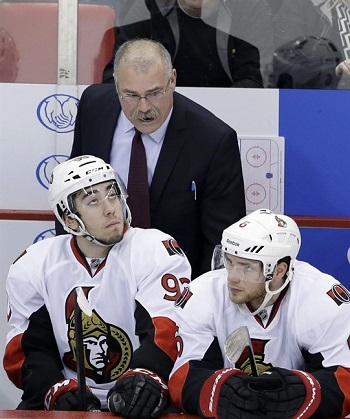 The Ottawa Senators stomped Daniel Alfredsson and the Detroit Red Wings 6-1 Wednesday in their first meeting since his departure.
The Sens were firing on all cylinders with two goals from Jason Spezza and Bobby Ryan, and a solid game physically from Erik Gryba, who also scored.
Coach Paul McLean was pleased with his team's 60 minutes.
"I thought we came out and played a real solid team game," he said. "We got better as the game went on and I think we were full marks for the win."
McLean mentioned recently re-called Mika Zibanejad and his line for their efforts in getting the game started right. "Mika's line ends up getting us the first goal early in the game … they did a lot of good work in their zone and got pucks to the net."
Overall, the head coach said it was the team's best effort of the season. "We said before the game that the game against Edmonton had been the best 60 minutes that we might've played all season long," McLean said. "For the most part from start to finish now this is the best that we've done."
The Sens improved to 3-0 in games when they've scored the first goal when Gryba roofed one early in the first period, a much different outcome than when the other team scores before they do. The Sens are 1-3-2 in games when they're scored on first. Jason Spezza said was difference tonight involved getting that important first tally.
"I think it was just a complete effort," he said. "I think we were probably a little more calm with the lead than we've been in the previous games … the focus was there tonight, guys did a good a job and guys tried to get pucks on net."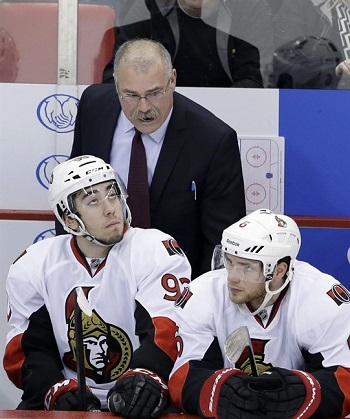 As for Alfredsson, the centerman said it was good to see him, but that he wasn't much of a thought when the puck dropped.
"It's different seeing him, he's a good friend." He said. "He's a guy we played with for a long time — but it's nice to catch up with him in the morning … once the game starts, it doesn't really come into play because we're so focused on the game.
Alfredsson echoed the same message.
"It's a game," the former Senators captain said. "I think it's disappointing for us as a team to lose like we did at home tonight."
Despite facing Alfredsson, who was held without a point, for the first time, the game was business as usual for McLean.
"For me it was just another game," he said. "For me, Alfie made a decision and we're gone by it. We played the game tonight, we ended up winning it — big win for us on the road but it had little to do with Daniel or anything else."
The Sens will face the Red Wings three more times this season. The next time these two face off will be at Joe Louis Arena on Nov. 23 where Ottawa will start a three-game road trip.
Sens fans will get their first official look at Alfredsson in a new uniform Dec. 1 when the Red Wings visit Canadian Tire Centre.