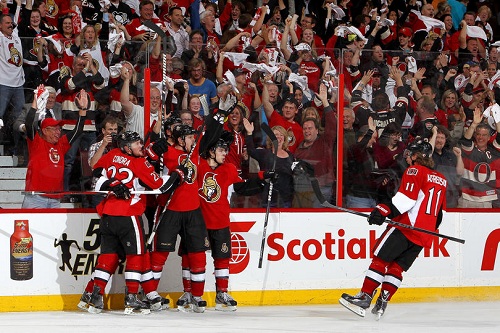 "Very positive" images came to Daniel Alfredsson's mind when he took the future of the Ottawa Senators into consideration.
The team's captain cited several names when he was asked to talk about where he thought the club was headed. Players like Craig Anderson, Erik Karlsson and Kyle Turris are just a few of the names he mentioned as key to the Sens' future.
Part one of the Sens Season in Review focused on rookies and the team's performance as a whole during the 2013 season. Part two will focus on the veterans, their performance and how they can contribute to what GM Bryan Murray considers to be a viable Stanley Cup run in the short term.
One of the biggest question marks that will follow the team around, at least for the next month or two, is whether or not Alfredsson will return for an 18th season. He said he needs to relax before making a decision.
"I don't really want to worry about it too much right now," the captain said. "I want to take some time off, be with the family — kind of just come down."
Number 11 will be 41 years of age just under 2 months before the beginning of the 2014 winter Olympics in Sochi. Alfredsson will likely play for team Sweden if the NHL clears its players for participation.
Assuming he's up to the challenge, Alfredsson could be just one piece of Ottawa's potential success moving forward. Let's take a look at some of the others.
Erik Karlsson went down early in a short 2013 season, as did Jason Spezza. Between the two, 74 man games were lost.
Over four seasons between 2005 and 2009, Spezza averaged 85.5 points a season. Erik Karlsson, of course, was the Norris Trophy winner after racking up 78 points in 81 games played in the 2011-2012 season. In order to have successful regular and post-seasons in the future, both of these players must be healthy and performing to their maximum capacity.
Two other primary contributors are Milan Michalek and Kyle Turris.
Michalek proved that he's capable of a 60-point, 30-plus goal season in 2011-2012. On the other hand, 23-year-0ld Turris, drafted 3rd overall in 2007, has not had much of a chance to play to his full potential. In 2013, however, he performed well in an elevated role, making it only a matter of time before we see what he can truly accomplish.
On the back end, with the exception of Karlsson, the core of young defencemen will need to look to 35-year-old Chris Phillips, and 39-year-old Sergei Gonchar for guidance and leadership. Phillips and Gonchar won't be in town forever so the Sens' newbies should learn to become independent as they are the future of Ottawa's blue line. Once the older veterans are gone, look to Karlsson to step up in the category of leadership.
If Craig Anderson (signed through 2014) can remain healthy and play like he did this season, the Senators will see large success in their own end. In 2013, Ottawa became one of the top defensive zone teams, finishing 2nd in the league in goals against per game.
At the other end of the ice, GM Bryan Murray aims to fix an issue that plagued Ottawa all season — scoring. They finished a dismal 27th in goals per game.
Murray said he's prepared to do what is necessary to land a veteran goal-scorer during free agency this summer. Sens fans can be confident that management will be making an effort to sign 29-year-old right winger David Clarkson, that is, if the New Jersey Devils don't decide to re-sign him after he scored 45 goals in 128 regular season games.
There are no doubt other potential fits for the Sens and more is sure to be revealed as July 1st approaches.
Guillaume Latendresse was sent packing by the team and the same is likely for forward Peter Regin and defencemen Mike Lundin if they haven't been told to pack up already.With those changes on the way, the Senators' busy off-season has already begun.
Picking 17th in the June 30th entry draft is just another activity the organization has to look forward to in the months that ensue.
With many changes forthcoming, it's definitely an exciting time to be a fan of the Ottawa Senators.
Enjoy the remainder of the playoffs as things are definitely heating up!