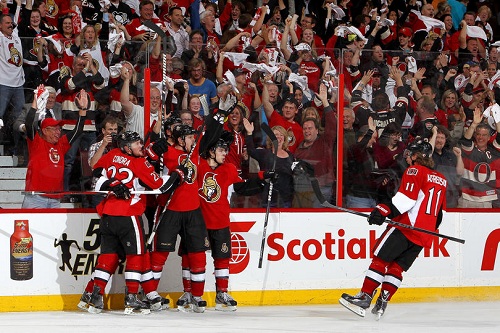 Colin Greening was the hero Sunday night in a vital double-overtime win against the Pittsburgh Penguins.
Greening, who now has 3 goals in the series, scored 7:39 into the second extra frame to get the team back into the series.
"I was overjoyed," Greening said. "Obviously if they win there, it's 3-0 and now we're 2-1 with another game at home." Greening played the remaining part of the game and scored the winning goal with fiberglass in his face after taking a high stick in the second period.
The Ottawa Senators would not have won that game had captain Daniel Alfredsson not scored short-handed with just under 30 seconds to play in regulation. The goal was textbook but Paul McLean was humble about it.
"'I'd love to say we drew it up but the fellas just played hockey," coach Paul McLean said following the game.
McLean also emphasized the hill that still needs to be climbed.
"All we did was win a game. We haven't accomplished anything yet, " he said, remaining consistent with his words from the series against the Canadiens.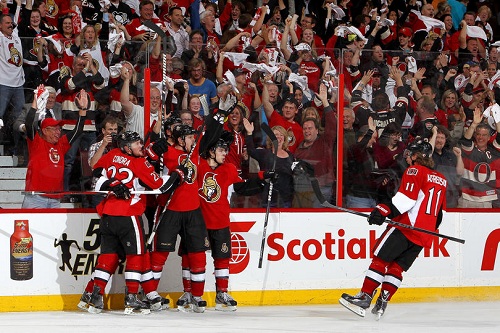 Keys to on-going success in the series
If the Senators want to continue their game three success and "accomplish" something against the Penguins, "just playing hockey" is what they'll have to do Wednesday May 22 when the series picks up again. Just playing hockey requires 3 simple ingredients.
1. An abundance of shots to the net. They've averaged just over 35 shots per game over the first three games and had 48 Sunday night alone.
2. Goaltending. Both netminders have been solid thus far but Craig Anderson needs to be stellar like he was in game three. He stopped 49 of 50 shots and posted a .980 save percentage in a brilliant bounce-back performance.
3. Tight play. The Senators have never been a team to close the gap, but against the Penguins they need to think about forcing the barrage of talent to the outside instead of letting them stickhandle freely into their own zone. Tight play also involves finishing checks and clearing the puck from the defensive zone when given the opportunity. Failed clearing attempts alone almost killed Ottawa as Tyler Kennedy's second-period goal was the result of several missed chances at getting the puck out.
That all being said, coach McLean has made the overall objective very clear.
"If we can win the next one, it's game on."
*As of May 20, there is no update on Chris Neil's condition. He went down with what's being called a left arm injury after crashing into the boards in the second overtime.