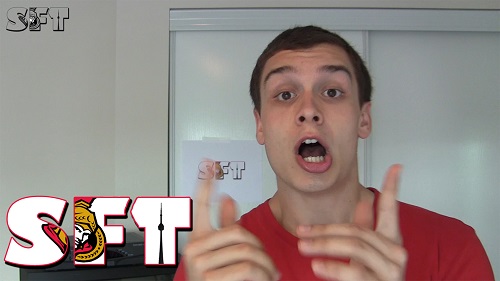 The video below is the first edition of an Ottawa Senators YouTube vlog coverage, a first for the Internet.
The show, called "Sens From TO" (SFT for short), will follow the team and its happenings from Toronto, Ontario. That's right, folks, adding a unique twist from behind enemy lines.
For the remainder of the off-season, the show, hosted by Jordan Mady, will cover team transaction news and offer light analysis of the former from Ottawa. The beginning of the regular season will see things heat up as a video will be made in reaction to as many Senators games as possible throughout the season from the province capital. If you've ever seen Steve 'Dangle' Glynn work his magic covering the Toronto Maple Leafs, you can expect similar antics from SFT.
Mady has been making videos for just under four years and is no stranger to the Senators organization. Since he fell in love with the sport of hockey 16 years ago, he has been following the team ever since. Thanks to Hooked on Hockey Magazine, his video content and Sens knowledge will now reach more fans than ever before. Mady is currently a third-year journalism student at Ryerson University.
Stay red, Sens fans, and see you on the 'Tube.
– Jordan