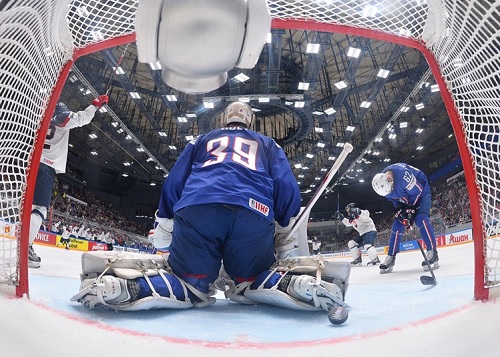 Slovakia continued their winning ways with a 5-1 win over France in the Preliminary Round of the IIHF World Championships tonight at Yubileiny Arena. With two goals in the first and two more in the second periods, Slovakia gave themselves room to breathe and their second win of the tournament.
In the first period a pair of goals by Andrej Sekera and Dominik Granak gave Slovakia the lead after falling behind very early in. Julius Hudacek, making his first start, recorded 21 saves.
"I think we played better today than yesterday." Sekera said. "We played 55 minutes, not 60. Still not quite there. But we did a good job in the third period."
France would strike first at 1:09 into the game when Jordann Perret scored on a break as a result of the puck deflecting off Martin Marincin's stick and heading into the Slovakia zone. Gregory Beron made the initial pass out of France's zone before it was redirected Perret's way. Perret wasted no time and went five hole for the score.
Sekera opened Slovakia's scoring with a slapshot that beat Cristobal Huet stick side to tie the game. Sekera has goals in back to back games in this tournament.
Granak pulled his team ahead 2-1. With a textbook faceoff win by Patrik Lusnak, Vladimir Dravecky controlled the puck and sent it to Granak for a blast that also beat Huet stickside.
"We started the game well." Perret said. "Afterwards, we didn't stick to our system. We started looking for long passes and all that. Against a good team like Slovakia, they were able to counter against us and take advantage."
Over the final six minutes, Slovakia turned up the effort and scored twice to extend their lead and put the game out of reach.
Slovakia and France both get a day off tomorrow. On Tuesday, Slovakia faces Germany while France takes on Hungary.