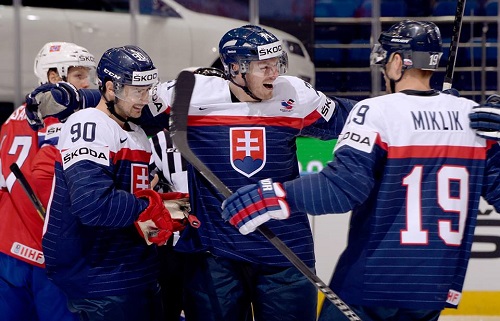 After losing their first three games, winless Slovakia looked to pick up their first tournament points against Norway. It only 66 seconds for the first goal of the game as Slovakia's Tomas Tatar slipped one by Norway's Lars Haugen. That lead wouldn't last for long as Norway's Alexander Bonsaksen knotted the game up at one only 5:39 into the first. Slovakia would go on to answer less than four minutes later with a goal by Juraj Mikus. Then within two more minutes Norway's Morten Ask would knot the game up once again, this time at two.
After what looked to be a scoreless second, Slovakia snuck in a late goal from Ladislav Nagy with just 18 seconds to go in the period. Finally two more tallies in the third further extended their lead and gave Slovakia its first win of the tournament.
For Norway, a team that started the day sitting in third place of group A, ended up slipping just a spot down to fourth. Slovakia however with their first victory moved out of last place in the Group A standings and into sixth. It's a long shot still but anything is possible so long as Slovakia can use this to get back to winning ways. As for Norway, this loss has opened the door to teams like Slovakia and France whom both are just a victory behind from taking over their current playoff spot.