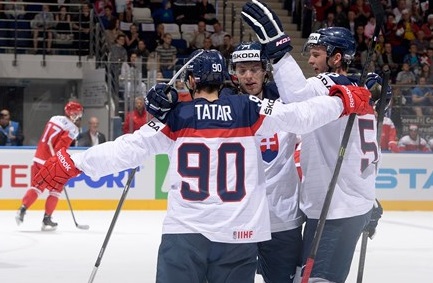 Although both teams had very little to play for other than their world ranking at state, Slovakia managed to cap off their disappointing tournament with a win. The two teams were all knotted up after 2 periods before the third proved to be an offensive explosion.
Norway threw 15 shots on net in the third, scoring two goals but Slovakia's three goals on seven shots gave them the game. Michel Miklik and Marek Viedensky added a goal and an assist apiece for Slovakia, and Juraj Valach had two helpers.
With the win, Slovakia finishes 5th in Group A and 9th of 16 in the tournament. Meanwhile Denmark sits 7th in Group A and finishes 13th in the tournament avoiding relegation.
Slovakia has had a down year considering their poor performance both at the Olympics in Sochi and in Minsk for this year's World Championship. Expect to see the team slip in the standings for world ranking once the tournament is complete and possibly find itself for the first time being outside the top 10 in the world.