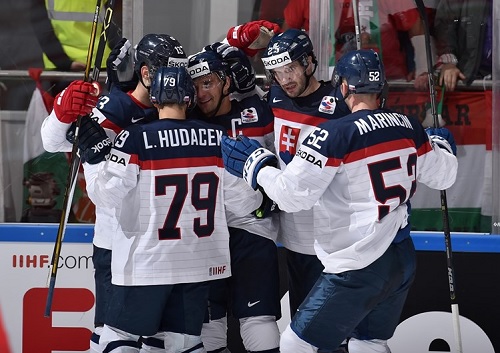 Tomas Jurco and Andrej Sekera lead the way for Slovakia to a 4-1 victory over Hungary in the opening game on the second day of the IIHF World Championships at Yubileiny Arena.
Hungary was competitive in their first appearance in seven years in an IIHF top division World Championship game.
"It was not an easy game." Martin Reway said. "We didn't expect that, but of course we should have played better. Especially in the third period, we focused only on the defence. It's not a good effort, I think."
Tomas Marcinko scored for the Slovaks at 7:07. Vladimir Dravecky sent a shot on goal that was saved but off the rebound and with the traffic in front, the puck bounced around like a ping pong ball finally landing on Marcinko's stick for the put away.
On a power play, Istvan Bartalis rushed the puck into the Slovak zone, behind the net looking for a wraparound. The puck rebounded off Branislav Konrad's pads in the slot to Vilmos Gallo whose shot hit Frank Banham's skate and in.
Jurco enjoyed a strong game, perhaps his best in his limited World Championship play. He had a scoring opportunity with five minutes remaining but Miklos Rajna was there to stop him. Two and a half minutes later, Jurco converted an Andrej Sekera slapshot with a redirection that found the back of the net.
Sekera scored off a give and go with Jurco to give Slovakia a two goal lead and it stood there until Patrik Lusnak added an empty net goal in the final two minutes with Hrnka adding an assist. The goal came with 2:17 remaining in the period.
Slovakia hopes to maintain their winning ways when they take on France tomorrow. Hungary deals with yet another challenge, also tomorrow, when they face Canada.
After the post game on ice ceremony and Slovakia left the ice, Hungary was treated to their many fans in attendance singing the national anthem. It was a demonstration of the love and respect Hungarian fans have for their team.
"Our fans do that for us whether we win or lose." said team captain Marton Vas. "It is a proud nation and I think we have their support all the time and especially the way we played tonight. They don't care about the result, they are happy to see us working hard and giving all we've got in these games."