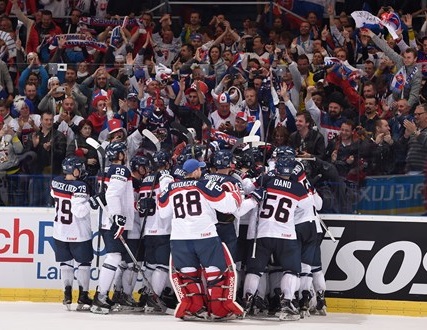 After coming off wins from yesterday, the two teams squared off in a second day of hockey looking to grab more points and further extend their chances to make the playoff round.
The two teams skated exchanging chances through the first 40 minutes but the score read nil heading into the third period. Both teams would trade goals in the third period before taking the game into an extra session.
"We had a pretty rough game today." Marek Viedensky said. "We didn't have many shots or that many good chances. It was a tough game for us. They scored late in the game but we showed we can come back as a team and win the game in OT. We'd be happier with six points from two games but we have to look at what happened and 4 pts from 2 OT games is pretty good."
Netminders Kevin Lalande and Jan Laco made some key saves throughout for their respective teams to bring such a tight game into an overtime frame.
Much like their game against Denmark, it would take Slovakia two periods to get on track and on the scoreboard.
Belarus would finally strike at 11:27 of the third period when they gained the offensive zone and Alexei Kalyuzhny sent a pass over to Sergei Kostitsyn, who had the open side of the net waiting for him to bury the puck. The shot hit the base of the post and went in.
Just over one minute later, defenceman Meszaros tied it up quickly with a wrister that beat Lalande and just as Ilya Shinkevich was dropping to the ice to block the shot. As with last night, the goal woke the pro-Slovak crowd and got them into the game again.
Richard Panik nearly scored to put Slovakia ahead after taking a pass from Bartovic and zipping to the net. With time running out it was clear that for the second consecutive game, Slovakia would go to overtime where the game would ultimately be decided.
Slovakia started the overtime quickly, transitioning out of their zone and to offence. They would keep some pressure on the Belarus defence but a second goal proved elusive until 1:55 of OT when Meszaros scored his second of the game with a whistler past Lalande that set the crowd off once again.
Love Reading About Hockey?

Subscribe to keep up-to-date with the latest and most interesting hockey news!
| | |
| --- | --- |
| | We hate spam just as much as you |