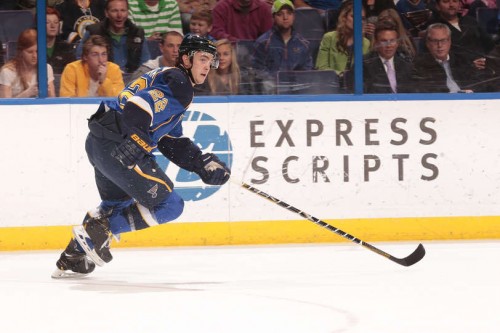 According to Andy Strickland, a St. Louis Blues reporter, the Blues are high in the running for Jason Spezza.
Told #stlblues are high on Jason Spezza's wish list…only concerns would be health…he's had some injuries over the years #Sens
— Andy Strickland (@andystrickland) May 13, 2014
It would be surprising in the least to see Jason Spezza's name among the Ottawa Senators' roster at the beginning of next season as several teams have reportedly expressed interest in his services.
If Spezza was dealt to the Blues, Bryan Murray's asking price has been said to be a young established roster player, a prospect and a first round pick. The Senators could use some help on the back end and the name Kevin Shattenkirk has come up multiple times. The 25-year-old had 10 goals and 35 assists in 81 games with the Blues this past season. He would most definitely add some stability and puck-moving ability to the Senators' blue line. And assuming Spezza's remaining $4 million dollars were taken on by the Blues, there would be space in Ottawa's 'budget' to add Shattenkirk, who will be making $4.25 million through 2016.
The next name that has come up a lot is Patrik Berglund, who will be an restricted free agent beginning July 1st. Berglund would be a solid third-line centerman for the Sens, and if the Blues don't send him a qualifying offer, that means they'll be looking to deal. If you've heard that Jaden Schwartz or Vladimir Tarasenko are in the mix, they are more than likely being kept within the atmosphere of St. Louis.
Of course, other teams have apparently expressed interest in the point-per-game centerman (good news for Bryan Murray), but the Blues are the team that lead the field going into July.
Regardless of the players the Senators would like to target, there is a financial black cloud over every decision they will make during this season of free agency. It will be Shattenkirk or Schwartz, for example, not both.
But despite all the road blocks that have been erected, expect the Senators to be active come July 1st as they continue to rebuild their roster.