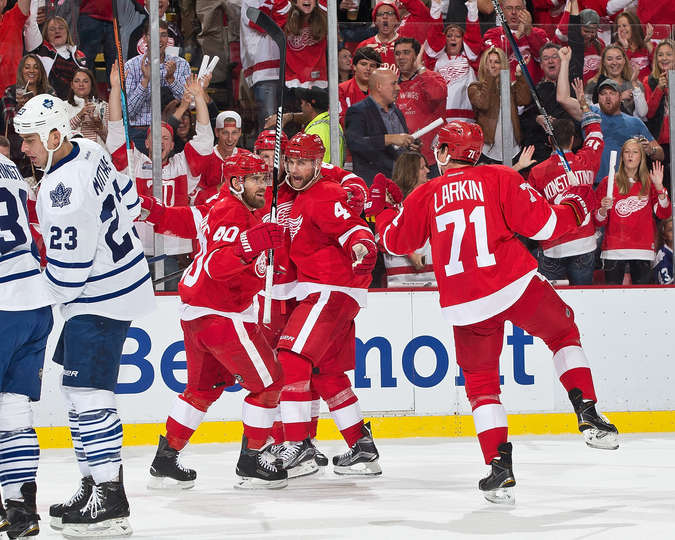 The Detroit Red Wings opened their season Friday against rival Toronto Maple Leafs, led by former head coach Mike Babcock.
The two teams faced off twice in the pre-season, with the Wings winning 4-2 (home) and 2-1 (away).
There were many storylines in this contest: Jeff Blashill's first regular season game as head coach, Babcock's return to Joe Louis Arena, Dylan Larkin's first NHL game, Jimmy Howard's fresh start, the first game for both veterans Brad Richards and Mike Green, and Johan Franzen's first game since January 6th.
Of those, the one that will be remembered the most is that of Larkin's story. After it was announced that he had made the opening night roster, Jeff Blashill slotted the 19-year old Michigan native into the top line with captain Henrik Zetterberg and winger Justin Abdelkader. No one could have predicted the level of chemistry this line showed.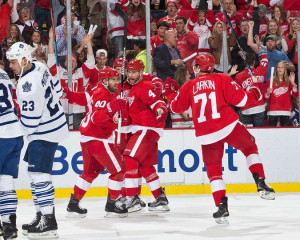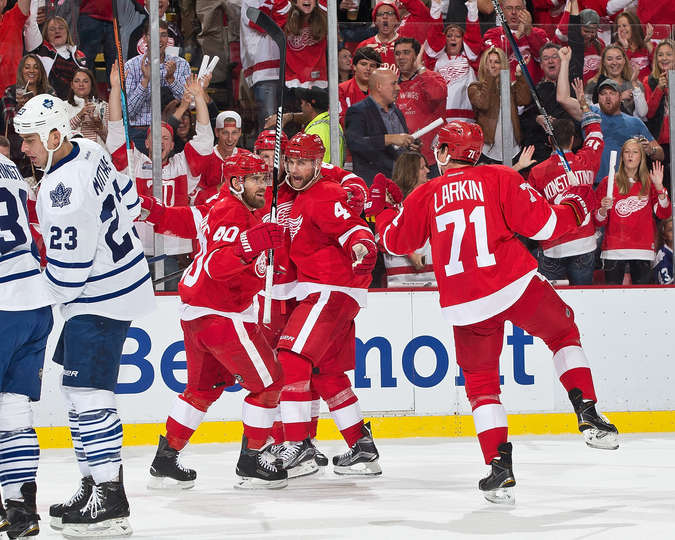 Larkin admitted he felt nerves prior to and during the beginning of the player introductions and first period.
"Yeah for sure. You know, when you're coming out to the introduction you just focus not to fall, and then first shift I tied my skates too tight and my toes weren't really feeling, so after that I kind of settled in and felt pretty comfortable."
The game began with a dominant Detroit team from the opening faceoff. After Leafs forward Joffrey Lupul was called for hooking only a minute into the game, the Wings would strike quickly on their first shot. Zetterberg gathered the puck and fed it to Franzen, who took a hard wrist shot which caromed off the post. Abdelkader then quickly poked it past netminder Jonathan Bernier.
Seven minutes later, Dylan Larkin carried the puck into the offensive zone, fending off Leafs defenseman Jake Gardiner. After demonstrating his puck control skills, he fired a quick shot at Bernier. The Leafs then attempted to clear the zone along the boards, but Detroit's Jakub Kindl kept it in, giving the puck back to Larkin, who then passed to Abdelkader in the slot. Abdelkader wheeled around and wristed it past Bernier on his team's second shot.
In the second period, the offensively-minded Mike Green led a rush with Zetterberg and Larkin. Green passed to Zetterberg, who then transitioned to Larkin at the opposing blueline. Larkin, who never stopped skating in the end-to-end breakout, was ready to accept the pass. Instead of looking to pass to his veteran teammates, he showed the confidence needed in a young player to succeed. He snapped the shot high blocker-side on Bernier, who was subsequently pulled in favor of James Reimer after the ninth shot faced. Green recorded his first point as a Red Wing on the play as well.
"I thought Dylan played very well," said Blashill. "And I talked to him before the game, he seems to be extremely mature as a young guy. He seemed ready to go. I didn't think he pressed. I didn't think he tried to do too much. I thought he played hockey and he does it very, very well. It was a good line. I didn't know how he was going to do on the wing. That was the one unknown for me. Not that he's never played it, he played it for us a little bit in the Calder Cup playoffs last year but I thought that line with him, Z and Abby was real effective. It's a good first step for him."
"I think [Larkin] can fit in with any line," said Abdelkader. "Just his skillset, how he skates, you know, obviously he can shoot the puck, and score. He does so many good things out there. He's a good player. I think there's a lot of hype around him, so I was a little worried that way how he would respond, but he's such a good player that he proved every bit as good as all the media and everyone kind of built up. But he's a good player, for a teenage to make the opening day roster, it's out of the norm so it's great for him."
Shortly after, the Leafs lobbed a pass down ice which Wings defenseman Kyle Quincey intercepted. Quincey moved the puck forward and Zetterberg deftly re-directed the puck with his skate to the tape of Abdelkader. The two-goal scorer found himself a breakaway with little room, but managed to score his hat-trick goal low glove-side on Reimer. It was his second hat trick of his career, with his first coming against the Anaheim Ducks on March 22nd, 2013. Larkin was also well-positioned for a potential pass on the play if needed.
"He seems like he likes to score against Anaheim and Toronto (laughs)," said Howard.
"I felt coming into the season that what he did last year is what Abby is," said Blashill. "I think he's a really, really good player who now has had enough years under his belt where he's probably earned more offensive opportunities and as a result, you saw the goals that he scored last year and he certainly started on the right foot today. I think Abby is a very, very good 200-foot player who brings an element to a line and again there seemed to be some chemistry with that line."
After a scoreless third period, the Red Wings would secure the shutout for Jimmy Howard, who was solid when called upon. He stopped all 22 shots he faced in the 4-0 win. It also signified Jeff Blashill's first coaching win.
And although Brad Richards did not record a point on the scoresheet, he still had a strong impact on the game, and also his young linemates.
"Richie's done what he's done all camp and that's played very hard," said Blashill. "He's got a lot of talent, he skated hard. I thought their line with Tats and Nyke brings a different element. It's got a ton of skill and they play kind of give-and-go off each other real well and I think it's going to be a real good line for us."
"I thought we played really good," said Blashill. "I thought the energy was great. I thought the execution and attention to detail was really good. I thought it was a good step for our hockey team. I know they're a good team as well, they're gonna make it hard on lots of teams through the season for sure."
Abdelkader admitted it felt good for his team to win against Babcock, allowing Detroit to officially usher in the Blashill-era.
"…obviously a little extra special for all of us against Babs, but now we can turn the page once we got past that first one," he said. "Now we can move past that. It's our old coach, right? But it's hockey, it's business. People move on, people go different places. But now it's just going to be Toronto Maple Leafs, not Toronto Maple Leafs and Babs."
For Howard, the shutout was a fresh start with a new coach. After playing well enough to earn his way into the 2015 NHL All-Star Game in the first half of the last season, he fell to injury and was unable to participate in the game. Returning from injury his stats were below-par. In February, March, and April, his save-percentages were .902, .890 and .902. In this time, Petr Mrazek earned the starting job in the post-season. However, the 31-year old goalie seems to have rebounded from last season's dip in stats. He had an impressive pre-season and he has carried that momentum into the regular season as well.
"Yeah it was good (to get a fresh start)," said Howard. "I was able to see pucks out there tonight. You know, when guys box out there and take away the far side of the net and allow me just to concentrate on the puck, it makes a goaltender's life a lot easier."
"I thought Jimmy was good and I thought, you know, sometimes the game ends up 4-0 it feels like it was one-sided. It wasn't," said Blashill. "I thought we played well at times, but when your goalie does what he does and not give them any sniff at all, you know, he didn't give them, by stopping the ones he's supposed to stop, by making the big saves at big moments, it keeps the game at bay for them and allows us to continue to try to build a lead, which we were able to do in the second."
For Larkin, his strong performance will help to solidify his place on this crowded Red Wings roster.
"I think he's been confident since the first day of training camp to tell you the truth," said Abdelkader. "Starting back at Michigan, he had a great year, World Juniors, playing in Grand Rapids. He just kept excelling at the levels he was at, world championships, and training camp/pre-season he's kind of been getting better step-by-step. I think it showed tonight what he can do."
When Darren Helm and Pavel Datsyuk return, barring additional injuries, there will have to be some moves to fit these two key players back into the lineup. Currently, Detroit has scratched Tomas Jurco and Joakim Andersson.
The only forward that can move freely from the NHL to the AHL is Larkin. Landon Ferraro, who also has a two-way contract, will have to clear waivers if the team decides to send him to Grand Rapids. General manager Ken Holland will look at his trade options to free up some room if needed. If every player is healthy, then there will need to be some tough decisions made.
But for now, all the pieces seem to fit in the puzzle for this team. The players and Jeff Blashill have a strong mutual respect for what he has accomplished in his coaching career leading up to this season.
"It was perfect timing for Blash to come up, because he's been so successful in Grand Rapids," said Abdelkader. "He's going to be a great coach for us. We're all really excited and the future looks bright."
Love Reading About Hockey?

Subscribe to keep up-to-date with the latest and most interesting hockey news!
| | |
| --- | --- |
| | We hate spam just as much as you |