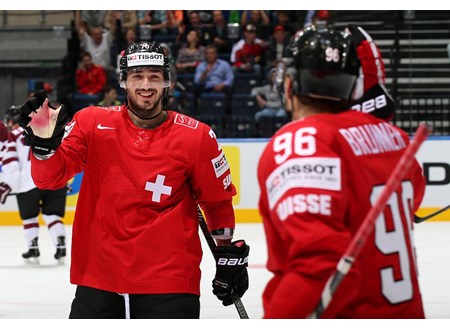 Team Switzerland won their third tournament game this afternoon against the Ted Nolan-led Latvians. Damien Brunner, who has been relatively quiet in the World Championship thus far, opened the scoring at 8:39 of the first period. Forwards Denis Hollenstein and Luca Cunti made the play happen with some good puck moving behind netminder Kristers Gudlevskis (Tampa Bay Lightning). 2:10 later, defenseman Dominik Schlumpf made it 2-0 after another behind-the-net pass, this time from Andres Ambuhl.
Still in the first period, Swiss forward Simon Moser's shot hit both posts, but managed to stay out of the net. When the second period began, it took just 27 seconds for Switzerland to take a substantial three-goal lead. Defenseman Yannick Weber (Vancouver Canucks) shot a low wrister from a pass by Roman Josi (Nashville Predators). Ambuhl added his second assist as well.
1:30 after the third goal, Team Latvia got one back. Forward Koba Jass scored five-hole with a low-percentage shot from a terrible angle. Reto Berra will want that one back for sure. With 2:23 left in regulation, Kristaps Sotnieks's slapper from the point was redirected by Zemgus Girgensons (Buffalo Sabres) to bring the Latvians to within one. But it was too little too late, because Switzerland would score an empty-netter shortly after. Wait, what? It hit the post?
Well, they still were able to win 3-2. Latvia had to win today to advance to the Quarterfinals. With the top four teams in each group advancing, Finland's 11 points beat out Switzerland's 10 points by just one Finnish overtime win. Russia finished the qualification round with a tournament-leading 21 points, while Kazakhstan had just two points from two overtime losses. Even Italy did better than two points, and they scored only six goals in seven games (10 fewer than Kazakhstan).
Follow me on Twitter @yungspork