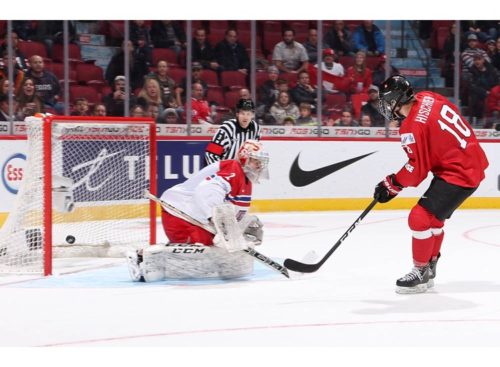 Budding superstar Nico Hischier scored the overtime winner at 0:23 and added two assists as the Swiss topped the Czechs 4-3 in their opener on Tuesday.
Swiss assistant captain Damien Riat fed Hischier a breakaway pass and the 17-year-old sniper from the QMJHL's Halifax Mooseheads beat Czech goalie Jakub Skarek through the five-hole.
"It's a great feeling to score in overtime," said Hischier.
Riat also had a goal and two assists. Captain Calvin Thurkauf added a goal and a helper, and Loic In Albon also scored for Switzerland. Goalie Joren van Pottelberghe shone with 36 saves.
"It's always nice to win, especially the first game of the tournament," said van Pottelberghe, who plays for Davos in the Swiss NLA. "It gives you a good feeling to progress in the rest of the games."
The last time Switzerland won a preliminary-round game was two years ago on this date in Toronto, and it was a 5-2 win over the Czechs. Switzerland, under new head coach Christian Wohlwend, is looking to improve on back-to-back ninth-place finishes at the last two World Juniors.
"This year, we had a super pre-season, and we had two great games against Canada and the USA," said Wohlwend. "This is why I expect way more from our team 5-on-5. This was the first game and our players were a bit nervous. But now, in the second game we have to step up."
The Swiss face Sweden next on Wednesday, and the Czechs will battle Denmark on Thursday.