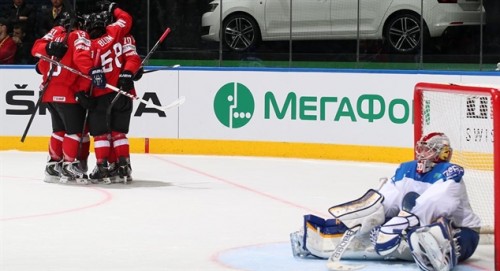 Switzerland, who came into Saturday's contest with Kazakhstan with just one regulation win and one overtime loss in five games, improved to 7 points in the standings after an offensive explosion from their special teams. Kazakhstan was the only statistically worse team than Switzerland in Group B with just two points (two overtime losses) in five tournament games.
Dean Kukan opened the scoring for the Swiss at 9:44 of the first period with a shorthanded goal resulting from a perfect blueline-to-blueline pass.
Three minutes later, Kazakhstan's Yevgeni Blokhin was called for holding, and Denis Hollenstein would capitalize on the ensuing man-advantage with help from Mathias Seger and Andres Ambuhl after a wrist shot managed to trickle five-hole through the Kazakh goalie's skates. He was standing straight up with his skates together, but it somehow found twine. It was a weird goal to say the least.
Strangely, Kazakhstan decided to pull goalie Vitali Yeremeyev after the two goals and replace him with Alexei Ivanov, who would end up doing much worse.
Just fewer than five minutes into the second stanza, Nikolai Antropov (former Winnipeg Jet and probably the only name you'll recognize on the team) delivered an elbow to the head of Swiss center Kevin Romy. He received 25 penalty minutes for the cheap shot.
Switzerland would have a five minute power play, of which their special teams scored their third straight goal. This time the goal came from Vancouver Canucks defenseman Yannick Weber, assisted by Nashville Predators defenseman Roman Josi. Weber was pressured at the point by Andrei Gavrilin but managed to side-step him and get better positioning for a shot. The slick move allowed him to get the perfect angle on the shot.
With 2:27 left in the second, forward Andres Ambuhl made it 4-0 on yet another power play goal, this time on a Konstantin Romanov delay-of-game penalty.
When the third period began, Anton Kazantsev got called for elbowing at 2:52. Can you guess what happened next? You're right! A power play goal by Luca Cunti was scored. Josi registered another assist on the notch while Simon Moser had the other.
At the 6:05 mark, Eric Blum scored an even-strength goal right after Switzerland killed off a penalty. That's not a typo by the way. It actually was at even strength.
If the Swiss had kept Kazakhstan off the board, it would have been the largest margin of victory by any team in the entire tournament. But instead, the Swiss left early to beat the traffic, allowing the Kazakhs to score two goals to gain some self-esteem back. The two goals were scored as fast as you can say Vadim Krasnoslobodtsev. That is to say, nine minutes and eleven seconds. Krasnoslobodtsev scored the first goal and assisted on Yevgeni Rymarev's goal that made it 6-2.
V.K. would win player of the game honors for his team, while Ambuhl would win for the Swiss with his international Gordie Howe hat trick: a goal, an assist, and a minor penalty (fighting is not allowed in international play).
It doesn't look like Team Switzerland is going anywhere in this tournament, but they will have a chance to win one last game against Team Latvia on Tuesday at 9:45 AM ET.
Follow me on Twitter @yungspork