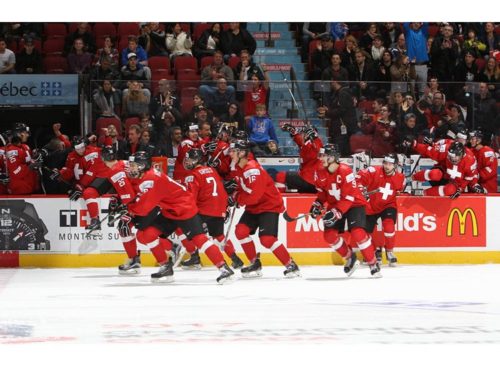 Switzerland rallied from deficits of 3-0 and 4-1 to beat Denmark 5-4 in a shootout. This means Finland must play relegation and will not repeat as champions.
Finland has achieved an unfortunate first. It is the first time in IIHF history that a nation has won World Junior gold one year and played in the relegation round the next year.
Swiss forward Marco Miranda scored the only goal in the shootout. Switzerland outshot Denmark 53-22 and showed a never-say-die attitude. Danish goalie Kasper Krog was heroic in defeat.
"It was a pretty wild one," said Krog, who got an ovation from the Montreal crowd at the end of overtime. "We didn't really stick to the game plan and we allowed them to get some offense that they maybe shouldn't have had, because they have a good team. They know how to score."
In regulation, Fabian Zehnder scored twice for Switzerland, and Nico Hischier and Nando Eggenberger added singles for Switzerland. Jonas Siegenthaler had two helpers.
"The first period was [garbage]," said Siegenthaler. "The second period, we started good and scored some goals and came back into the game. We just needed to shoot the puck and go for rebounds. At the end it was 4-4, and we had some good chances in the overtime. Their goalie was good and they played good defence and everything. At the end we won in the shootout."
Regardless, the Danes have made the final eight for the third straight year. They've proved that taking them lightly is a mistake. Just ask Finland and the Czech Republic: here in Montreal, Denmark has defeated both of them for the first time in World Junior history.
"We've played up against a lot of good teams in the round-robin," said Danish captain Alexander True. "I for sure think we can be proud of ourselves. Every night we came out and competed with the other team."