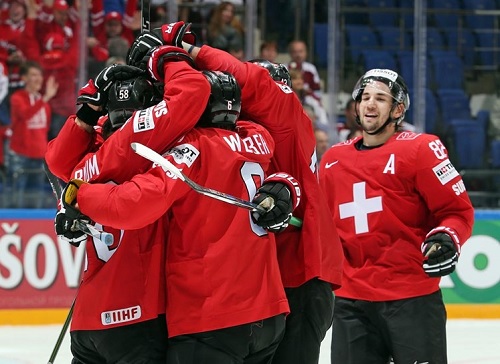 Switzerland blew leads of 3-0 and 4-3, but an Eric Blum goal at 18:31 of the third period broke a 4-4 tie with Latvia and gave the Swiss a dramatic win.
Blum controlled a poor clearing effort by Roberts Bukarts and then fired a quick point shot that went all the way, fooling Latvian goaltender Edgars Masalskis and giving the Swiss their second win in a row.
The result puts the Swiss right back in the thick of playoff possibility. They now have seven points and move into second place in Group A standings (although they have played one more game than all other teams at this moment). After three games that went to overtime or a shootout, this was their first regulation game in Moscow.
The loss leaves Latvia in last place tied with Kazakhstan. Each team has just two points but the Kazakhs have a game in hand.
"Today was the first game where we really got started," noted Swiss captain Andres Ambuhl. "We played pretty good early on, but then we lost that 3-0 lead. Still we had enough to win it and get our first three points of the tournament, so we're pretty happy with that."
What started out as a clumsy and slow game turned into unpredictable mayhem in the second period when teams combined equally for six goals, the most in any one period so far at this year's World Championship.
Nine Niederreiter started the fireworks simply enough. Stationed in the middle of a four-man Latvian box during a Swiss power play, he re-directed a nice pass from Sven Andrighetto over the glove of Masalskis at 3:33.
Two and a half minutes later, "El Nino" struck again. This time he corralled a rebound off a Felicien du Bois shot and fired quickly, the puck squeaking through Masalskis's pads.
The Swiss took control of the game at 8:30 when Andrighetto's pass in front caromed off the skate of Gregory Hofmann. Video review confirmed there was no distinct kicking motion, and so the Swiss were up 3-0 and looking strong.
But they couldn't maintain their composure and took penalties that cost them dearly. Kristaps Sotnieks took a point shot deflected in front by Mikelis Redlihs at 13:24 to make it 3-1.
Four minutes later, on another man advantage, another Sotnieks point shot led to a goal. Berra made the save, but Redlihs was right there to snap home the loose puck.
To complete the craziness, Ronalds Kenins came don the right wing and fired a pass in front, only to see the puck deflected by Swiss forward Morris Trachsler behind his own goalie at 18:36. A game that started slowly veered sharply in the Swiss direction, was now tied, 3-3 after 40 minutes.
Andrighetto gave the Swiss another lead at 5:56 of the third when he came off the boards and fired a quick shot from the top of the faceoff circle that caught Masalskis by surprise.
That lead lasted all of 26 seconds before a harmless-looking shot by Guntis Galvins was tipped en route to the net by Aleksejs Sirokovs, beating Berra and making it a 4-4 game and setting the stage for Blum's dramatics.
Switzerland now enjoys two days off before playing Russia on Saturday while the Latvians have one day off before a critical encounter with Denmark.