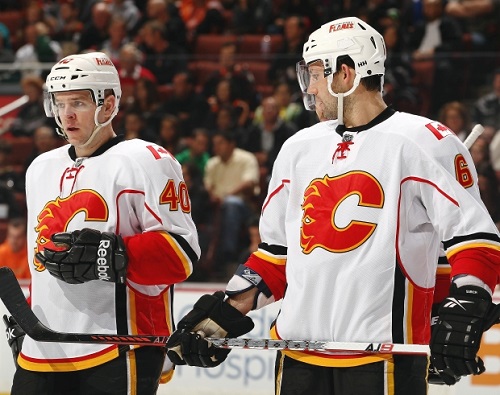 The Sakic/Roy player personnel team got together and made their first trade sending right winger David Jones and defenseman Shane O'Brien to the Calgary Flames for former Avalanche star winger Alex Tanguay and hardnosed defenseman Cory Sarich.
Not necessarily a "my garbage for your garbage" trade, nor is it a blockbuster. Both teams made out well enough for a pretty solid trade that helped each team. The Avs needed veteran experience and the Flames were looking for youth. Each got what they were looking for.
2013 Tanguay is not the Tanguay of 2001, but what he brings to the table now is more than adequate. Tanguay is a deceptive shooter that has a problem pulling the trigger more often, but when he does he is an almost 19% shooter. Tanguay's value lies in his veteran experience (the first six of his 12 NHL seasons spent with Colorado), improbable trick shots and his ability to feed the puck for assists. Returning to Colorado and going back to work for his old teammates, Tanguay has to be relieved to be out of Calgary, his on-again-off-again home since leaving Colorado via trade in 2006.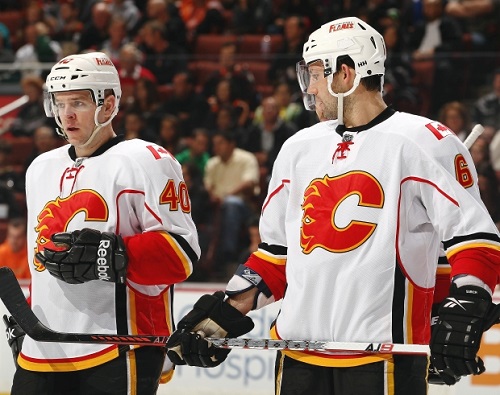 Sorely needing defensive experience, the Avs received Cory Sarich and sent O'Brien on. Both are physical players, one is just older than the other (O'Brien is 29 and Sarich is 34) but both will compliment their new teams well. Calgary gets the younger player and Colorado gets the gritty veteran. Sarich may be older but he is most definitely not afraid to take the body and is sort of reminiscent of Rob Blake. The Avs desperately needed proven veterans on their blue line and Sarich is a nice addition as the Avs have become defensively soft all around.
One of the best parts of this trade was the money saved for the Avs with Calgary on the hook for $4 million more in salary over the life of the contracts. Calgary gets younger for a bit more money and the Avs get two seasoned vets AND save some cash at the same time.
Trade Grade for Sakic/Roy: B+ – not a blockbuster but on paper this trade saved money and looks well thought out.