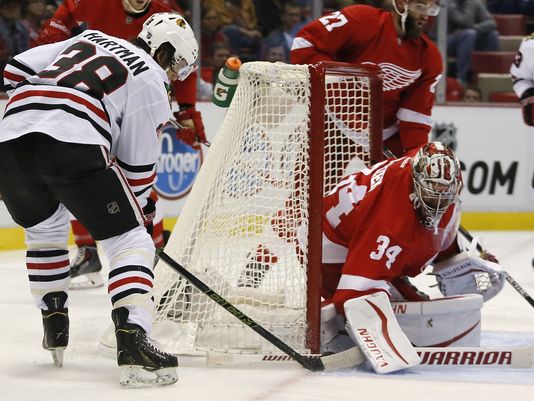 The Detroit Red Wings won their first home pre-season game Wednesday against the Blackhawks after dropping Tuesday's game in Chicago 5-4.
Petr Mrazek played the first half of the exhibition game, stopping all 16 shots he faced. He was tested early in the contest, as Detroit appeared a bit unorganized.
"I thought Mrazek was really good early," said coach Jeff Blashill. "I didn't think we were good enough the first period, maybe the first two periods. I thought Petr did a real good job and I thought Jared Coreau came in and did a real good job as well. It's not an easy thing. He saw some tough shots right away but goaltending I think has been solid so far."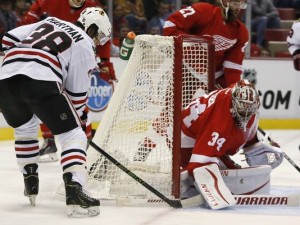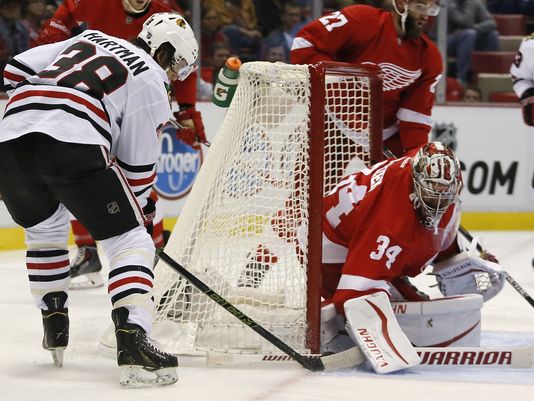 However, it was the Wings that struck first. Tomas Tatar and his linemate, veteran center Brad Richards, demonstrated a slick give-and-go passing play, of which the former scored on Hawks goalie Corey Crawford. At this time, Chicago led 12-5 in shots.
With 5:31 remaining in the second period, Chicago tied the game on an Andrew Shaw power play goal. Goalie Jared Coreau, playing the second half for Detroit, was screened on the play and likely never saw the shot.
Shortly after, forward Justin Abdelkader was set up with a perfect pass by defenseman Niklas Kronwall on the power play that awarded him a breakaway on goalie Michael Leighton. He capitalized by snapping a well-placed shot past the 34-year old veteran.
In the third period, it was all Tatar. Four minutes in Richards fired a shot from the side of the net and Tatar corralled the rebound as he drove to the net.
He would finish the hat trick with the Chicago net empty. Richards added his third assist as well.
"I thought Richards and [new defenseman Mike] Green both played well," said Blashill. "I thought they both had impacts on the game. Green did a great job of breaking the puck out. That's what I noticed the most. And I thought Richards obviously made a couple of real good plays."
Blashill spoke about the strong chemistry that Tatar and Richards showed in the first game.
"They seem to be playing good," he said. "They're two real skilled players and I think they like to play a skilled game. They like to make plays, which I'm good with, as long as we're limiting the turnovers. We had too many turnovers probably tonight in general. There's definitely chemistry."
He also talked about his progression from the 2013 Calder Cup winning roster of which Blashill coached.
"Tats is a real, real talented player. He competes extremely hard, has lots of confidence and wants to win badly. I mean he's got a lot of attributes that make you a real good player and I think he's continued to progess, and we'll work together to make sure his game continues to progress. We want him to be an elite player in the league. And I think he, obviously he scored 29 goals last year. There's very few that had more than him. He's developing into that and we're going to continue to help him."
Tatar of course had his breakout year last season, playing in all 82 games and 7 post-season contests. In addition to his 29 goals, he added 27 for 56 points. He was teamed with the two-time Stanley Cup winner Richards throughout training camp, and the two will continue to play together to start the regular season.
Detroit will play its third game in three nights on Thursday (vs. Pittsburgh). There will be an extra 3-on-3 overtime period played regardless of the score. This is one of the select games chosen by the NHL to test out the new format.
The American Hockey League debuted 3-on-3 for the whole of last season and an increase in scoring was proven. This will help to decrease the number of shootouts for both leagues.
Follow me on Twitter @KevinSporkaHOHM
Love Reading About Hockey?

Subscribe to keep up-to-date with the latest and most interesting hockey news!
| | |
| --- | --- |
| | We hate spam just as much as you |