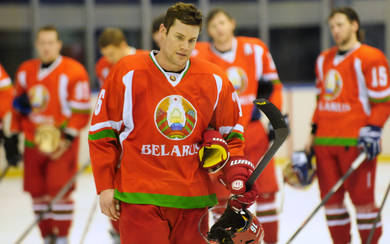 What if I told you that since the 2003 institution of the IIHF World Ranking, no host nation has ever entered a World Championship with a lower ranking than Belarus (15th). In-fact, Belarus has dropped considerably in world ranking since partaking in their last Olympic appearance (Vancouver 2010). The once eighth ranked team has been on a steady decline over the years with disappointing finishes in each of the last four year's Worlds and also failing to make this year's winter Olympics in Sochi.
However, the past has to be put in the past now as Belarus prepares to turn things around on home soil. The challenge ahead for the host nation doesn't get any easier either as they open the tournament up against Team USA on Friday May 9th at 1:45pm EST on NBCSN. Perhaps one motivational factor that can be used for Team Belarus is that their best ever finish in any IIHF tournament came back in the 2002 Olympics on USA soil. That finish included Belarus' biggest upset in their team history as they went on to defeat gold medal favorite, Team Sweden, 4-3.
And just for those who have forgotten that magical moment or would like to relieve it, here's that historic ending in full:
The biggest question for Team Belarus is how it will respond under coach Glen Hanlon. The history of Hanlon's coaching behind Belarus' bench brought the team its greatest success at the Worlds. Hanlon was behind the bench for Belarus in 2005 (10th place finish), 2006 (sixth place finish) and 2009 (eighth place finish). In-fact the sixth place finish in 2006 is still an all-time high for the Belarusians in the Worlds Championship. To expect such a result in this year's Worlds may be demanding a lot out of the team but it certainly wouldn't come as a shock if they finished in the top eight of this tournament.
Team Belarus' Schedule for the preliminary round is as follows:
May 9th: 1:45pm EST vs. Team USA
May 11th: 11:30am EST vs. Team Kazakhstan
May 12th: 10:45am EST vs. Team Switzerland
May 15th: 1:45 pm EST vs. Team Finland
May 17th: 10:45am EST vs. Team Germany
May 19th: 1:3opm EST vs. Team Latvia
May 20th: 1:30pm EST vs. Team Russia
The two back-to-back games will be the key for Belarus in achieving an above .500 record. A little puck luck and having Hanlon back on the bench will also go a long way to help the nation get a potential 4-3 record in the preliminary round. That record won't necessarily guarantee a spot int he playoff round but it sure would be a better start than the results in years of the past for Belarus.