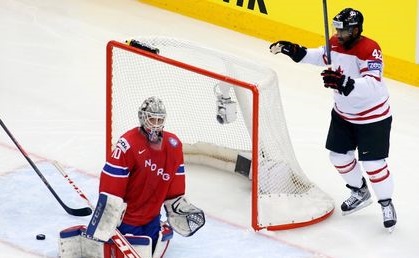 Team Canada secured the top spot in Group A and a quarter-final match-up against Finland with their 3-2 win against Norway Tuesday.
Canada hangs on for the 3-2 win. Off to the quarterfinals. They are top seed in group A pic.twitter.com/gO6JGiIT6G

— Brent Wallace (@tsn_wally) May 20, 2014
Norway opened the scoring and also took the lead once more after Canada tied it up early in the second frame. It was Mark Scheifele who scored the second equalizer late in the second. The Canadians didn't have the lead until the third period when Joel Ward scored his sixth goal of the tournament on the powerplay.
James Reimer started and made 14 saves on the way to his third win of the tournament. For the medal round, however, head coach Dave Tippett said the plan was to go with one goalie following the game. Ben Scrivens, who stopped 82 of 86 shots he faced in three wins, should be the starter going forward.
Alex Burrows, injured in Canada's 6-1 against the Italians, missed his second game in a row. He is expected to be ready for the quarter-finals, per TSN's Brent Wallace.
Looking back on the preliminary round, Canada's 5-1-1-0 record could fool some fans into thinking the red and white had a stellar tournament. In five out of seven preliminary games, the Canadians surrendered the first goal. They did, however, manage to claw back and win four of those games.
Canada's tilt against Finland will be played Thursday and the exact time will be decided as the preliminary round concludes.