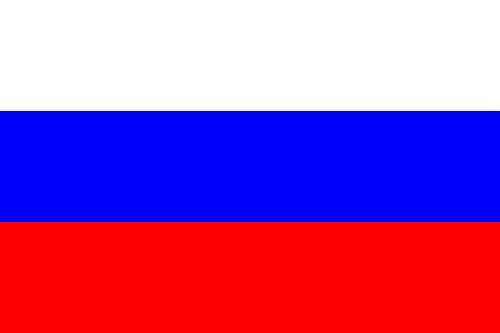 Imagine you are the general manager of your country's Olympic hockey team. You've been granted a time machine that allows you to go back to prior Olympics and bring players back to play for your team. Who would you choose to construct the ultimate team from your country?

Here are the basic ground rules:
-You can only choose players that have competed in the Olympics for the particular country.
-No junior championships, no world championships, only the Olympics.
-You must select the specific Olympic year of that player (e.g. 1998 Dominik Hasek) and once a version of the player has been selected, that player cannot be reused (ex: you can't take 1998 and 2002 Steve Yzerman).
-Players can be from prior to the inclusion of NHL players in the Olympics (e.g. 1980 Jim Craig).

You are tasked with putting together the best team possible. Select 12 forwards, 6 defensemen, and 2 goaltenders. Your line combinations matter and your defensive pairings matter. Everything matters in your quest for the Ultimate Olympic Gold Medal.
Since the introduction of ice hockey to the Winter Olympics in Antwerp 20 years into the last century, international hockey teams have hit the ice 22 times to play for the gold medal. Canadians, the creators of hockey, have always been there. In fact, Canada won gold four out of five times before the Second World War put Olympic festivities on hold. All in all, Canada's men have won Olympic gold eight times over the past 94 years. But after 1952 in Oslo, the Canucks didn't grace the apex of the podium for another half-century.
Who bridged the gap?
The team that did, between 1956 and 2002, won eight of the 13 gold medals up for grabs in that time frame. Of those victories, four were won in a row from 1964 to 1976. This tied the Canadians for the longest gold medal streak. With their unified gold medal in 1992, this team had amassed eight golds while Canada only had six, though Canada has caught up with golds in 2002 and 2010. This is the team that has featured some of the greatest players to ever skate on this planet. Vladislav Tretiak, Vladimir Krutov and Valeri Kharlamov, and many more.
The Russian Federation, or in their more dominant years, the Soviet Union, were an international hockey dynasty, and they continue to be a medal threat to this day. But how do the years of domination stack up all-time?
Here is my Russian all-time best Olympic line-up.
Forwards
| | | | |
| --- | --- | --- | --- |
| LW | C | RW | Total Olympic Medals |
| Vladimir Krutov (1988)(16G,15A – 31P in 22 GP) | Igor Larionov (1988)(5G,16A – 21P in 20 GP) | Sergei Makarov (1988)(11G, 17A – 28P in 22 GP) | 9 (6 Gold, 3 Silver) |
| Valeri Kharlamov (1972)(15G,21A – 36P in 18 GP) | Vyacheslav Starshinov (1968)(14G,9A – 23P in 15 GP) | Alexander Maltsev (1976)(17G,14A – 31P in 18 GP) | 8 (6 Gold, 2 Silver) |
| Anatoli Firsov* (1968) | Sergei Fedorov (1998)(3G,11A – 14P in 16 GP) | Boris Mikhailov* (1972) | 8 (5 Gold, 2 Silver, 1 Bronze) |
| Alexander Ovechkin (2006)(7G, 2A – 9P in 12 GP) | Pavel Datsyuk (2006)(3G, 11A – 14P in 18 GP) | Pavel Bure (1998)(11G,1A – 12P in 12 GP) | 2 (1 Silver, 1 Bronze)Total: 27 (17 Gold) |
*Statistics unavailable
Rationale
1st Line
It isn't possible to field a Russian hockey all-star team without the K-L-M line featuring Krutov, Larionov and Makarov leading the offensive charge. The 1988 renditions of these players were chosen as they collectively tallied 39 points in 8 games and were a crucial component of Russia's gold medal in Calgary. Throughout the entire selection process, there was an emphasis on selecting players who played together to create as much cohesion and chemistry as possible. This line exceeds that requirement.
2nd Line
The second line is, plainly, dangerous. Kharlamov and Maltsev played together and won two golds but were forced to settle for a silver in their third Olympics when the Americans performed the 1980 miracle on ice in Lake Placid. The fact that they played together successfully provided some flexibility in choosing what version of each player would make the team. In '72 Kharlamov had, arguably, his best Olympics with nine goals and seven assists in five games while Maltsev had a balanced seven goals and seven assists in six games on Austrian ice in '76. Both forward offensive lines require a solid playmaker or, at minimum, someone reliable enough to make passes and that's why Starshinov and Maltsev were selected from the years they were. It should be noted that Kharlamov is the highest-scoring Olympic hockey player of all time. Although, Teemu Selanne is one point behind the left winger on the all-time Olympic points list and may very well surpass him at the upcoming Games.
3rd Line
The third line has speed and it can still score. In 1968, a dedicated and hard-working Firsov scored 12 times in seven games en-route to his second gold medal. Fedorov never won a gold medal, but makes this team because of his speed and playmaking ability. He also makes an appearance in an attempt to balance the best all-time players with modern top players and the relative skill and environmental differences that come with them. On the wing is Boris Mikhailov, who did play with Kharlamov on the Soviets' top line, but gets demoted to the third line as his center Vladimir Petrov did not make the team largely because of depth and fit. Mikhailov, a native of Moscow, is second to Maltsev in Russian international goal scoring and, therefore, Fedorov has two great passing options during an offensive attack.
4th Line
The fourth line is contemporary for era-balancing reasons but features a lot of raw skill and playmaking ability. Datsyuk and Ovechkin will likely be on the first and second lines in Sochi, respectively, but these two would be a dynamic duo and potentially top power play partners on this all-star team. Bure on the right wing completes this fourth-line scoring machine, and Datsyuk will again have access to all kinds of passing opportunities. He'd also have access to open ice on which he could work his magic because of the opposition's intimate player-to-player coverage of the high-scoring wingers.
Defense
| | | |
| --- | --- | --- |
| LD | RD | Total Olympic Medals |
| Viacheslav Fetisov (1988)(12G,21A – 33P in 21 GP) | Alexei Kasatonov (1988)(7G,14A – 21P in 21 GP) | 6 (4 Gold, 2 Silver) |
| Valeri Vasiliev* (1980) | Igor Kravchuk (1988)(4G,6A – 10P in 26GP) | 7 (4 Gold, 2 Silver, 1 Bronze) |
| Sergei Zubov (1992)(1A in 8 GP) | Sergei Gonchar (1996)(1G, 4A – 5P in 24 GP) | 3 (2 Gold, 1 Bronze)Total: 16 (10 Gold) |
*Statistics unavailable
Rationale
1st Pairing
If the K-L-M line doesn't get split up, the Russian Five don't get split up, either. Fetisov and Kasatonov absolutely lit it up in 1988, combining for six goals and 15 assists over the course of their final Olympic gold medal journey. Five offensive weapons on the ice at once.
2nd Pairing
No one likely thinks of Russia as a defensive powerhouse but these two guys can hold their own. Vasiliev was a rugged, stay-at-home defensemen while Kravchuk could move the puck well — a great balance for turning a defensive play into an offensive one.
3rd Pairing
Zubov, regarded as one of the best offensive defensemen to ever hit the ice, and Gonchar, who ranks 17th on the all-time NHL scoring list for blueliners, will provide even more offensive punch and pucking-moving prowess. Both can score goals and have been placed on the opposite side of the ice to the way they shoot so their sticks are in ideal position to make easy passes and one-timers.
Goaltenders
| | | |
| --- | --- | --- |
| | | Total Olympic Medals |
| Starting Goaltender | Vladislav Tretiak | 4 (3 Gold, 1 Silver) |
| Back-Up Goaltender | Viktor Konovalenko | 2 (2 Gold)Total: 6 (5 Gold) |
Rationale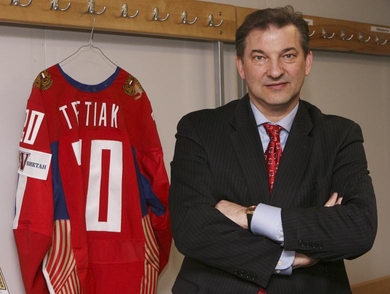 Named to the IIHF centennial all-star team in 2008, and arguably one of the best goaltenders in history, Tretiak is the only goaltender to ever win four Olympic medals, and one of three hockey athletes to attain the same feat. In a span of twelve years and four Olympics, Tretiak backstopped the Soviets to 3 gold medals — the first at the tender age of 19. In the same timeframe, the native of Moscow posted a 1.87 goals against average in 19 Olympic games played. In 1984, he stymied opposing offences with a minuscule 0.67 goals against average on the way to winning his final Olympic gold medal.
Before Tretiak replaced him as the starting goaltender for the Soviets in 1971, Konovalenko was the go-to for Russia. He won gold in back-to-back Olympics during the '60s, and put up a 1.80 goals against average and a .926 save percentage while shutting out the Finnish and Canadians in the 1968 Winter Olympics in France.
Final Word
A sum of 49 Olympic medals, 55 per cent of which were gold, were won by the 20 players that make up this all-star team. As this project had a focus on the Olympics, their other international successes, including Tretiak's 13 World Hockey Championship medals (9 golds), get pushed aside. But they are important, however, to mention as further proof that these men dominated ice hockey on the world stage in the latter half of the 20th century. Some of them continue to dominate to this day.
While the talent on this team is immense, the talent left off of it is as well. Defensemen Alexander Ragulin and Vitaly Davydov have six gold medals between them. They even played together, which was a heavily-weighted aspect in the selection process. But to win the ultimate gold medal, this team needed some physicality on the back end to compete with the offensive talent that would no doubt be coming from other nations. Vasiliev and Kravchuk both have the size, and are both mobile which is why they were finally selected. In the event of an injury to either, Ragulin or Davydov would get the call in a heartbeat.
All in all, this team would make a charge at the ultimate gold because of wave after wave of offensive threats from the forward lines. They are all built with balance of playmaking ability and scoring touch to create as many offensive options as possible on any given attack. Every center can pass the puck, and every winger can score. There is also a solid balance of modern and pre-NHL era players to bridge the relative gap between playstyles. And with Tretiak brick-walling the Russian net, this team would be surely contend, if not win the ultimate Olympic gold medal.
Love Reading About Hockey?

Subscribe to keep up-to-date with the latest and most interesting hockey news!
| | |
| --- | --- |
| | We hate spam just as much as you |