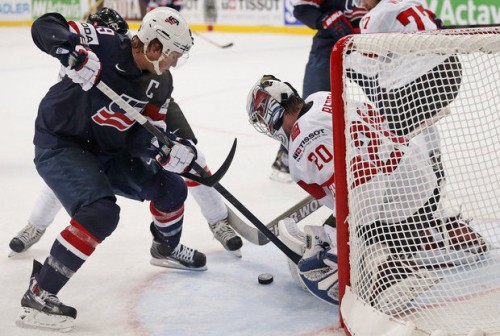 After suffering a 5-0 loss at the hands of the Russians, the Swiss took on Tim Thomas and the Americans. Team USA began their tournament with a 6-1 defeat of the host team, Belarus.
Thomas was tested late in the opening period during a Switzerland 4-on-3 power play, but managed to keep the game tied at zero.
However, just 1:28 into the second period, forward Denis Hollenstein gave the Swiss a 1-0 lead. The play was the result of a turnover by Team USA. The Americans had the long change in the first period and attempted a line change at this time. Meanwhile, Hollenstein capitalized on their poor timing with a well-placed wrist shot.
Fewer than five minutes later, forward Peter Mueller of Team USA would receive a perfect pass from Tim Stapleton, as the former exited the penalty box, which gave him a clear breakaway. He would tie the game after he slid the puck past Swiss goaltender Reto Berra (one of three Reto's on the team).
At the halfway point of the game, Kevin Romy took a drop-pass from Damien Brunner at the offensive blueline and drove to the net. Brunner stayed with the play, and when Romy was unable to do it all himself, he finished the job and scored his team's second goal on the rebound.
When the third period began, it did not take long for the Americans to come right back on the power play. After a shot by Tyler Johnson got deflected and then re-directed by Brock Nelson toward Berra, Craig Smith was right on the doorstep to jam it home.
The Swiss thought they had a goal scored by forward Thomas Rufenacht near the midway point of the third, but it would be called back due to the play being offside. The replay showed little support for the offside call that probably should not have been made.
The no-goal really cost Team Switzerland, because a few minutes later, Tyler Johnson would give his team the lead with some help from defenseman Seth Jones.
But fear not, because the fast Swiss team would get it right back. Thomas, anticipating a Brunner wrist shot, was caught out of position when Brunner was unable to get a shot off. When the puck was poked away from Brunner, Simon Moser had an open net to fire it in. Oh wait, no. They were offside again. Goal overturned. Still 3-2.
And that would be the final score, as a disappointed Team Switzerland falls to 0-2 in Group B. Team USA improved to 2-0 in the same group.
Next Game: Monday, May 12. Switzerland vs. Belarus.
Follow me on Twitter @yungspork